Introduction to the Druid of the Claw
Edit
Druids of the Claw were invaluable during the Third War. Their totem is the bear, and they use the bear's strength and resilience to ravage their enemies in close combat. Perhaps more than any other druid, Druids of the Claw focus on combat prowess, preferring raw strength and staying power to stealth and subtlety.
The path of the Druid of the Claw
Edit
Druids of the Claw take on the form of bears and wander the wilderness on a never-ending pilgrimage dedicated to the ursine Eternals. Though the destruction of the ancient Kaldorei homeland destroyed much of the land traveled by the twins, those who worship them have never given up their search for any of Ursoc's "alewells" and Ursol's carvings that may have survived to the present day.
These ancient Druids have adopted the totem of the bear and use the powers of their totem to defend their society from any external threats. They are fond of assuming Bear Form and roaming in seclusion throughout the wildlands of Kalimdor. When riled, the Druids of the Claw display ferocious power and stamina. Their magical spells augment their allies' fighting skills and bravery as well.
Suggested Representative Classes
Edit
Druid - Feral specced, preferable even Feral bear, for obvious reasons. Cat works well too.
Druids of the Claw of the Sha'tar
Edit
Roleplaying Tips
Edit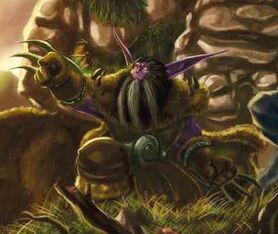 Ad blocker interference detected!
Wikia is a free-to-use site that makes money from advertising. We have a modified experience for viewers using ad blockers

Wikia is not accessible if you've made further modifications. Remove the custom ad blocker rule(s) and the page will load as expected.