Fish 'n' Bakes
Edit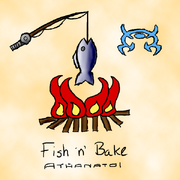 Fish 'n' Bakes - nowadays, organised by Kall, and hosted by the Immortalis (formerly Athanatoi) - are events held about every month or two, in a different location each time. They're designed as non-hostile events for both factions (usually), as a fun place to level your fishing and cooking - and just to relax, too. There's usually a variety of sub-events, including things like tonk races and base-jumping, as well as the regulars - story-telling around a campfire after sunset, and fireworks organised by Niblit.
Anyone can attend, as long as they're willing to be cheerful and peaceful.
History of the Fish 'n' Bakes
Edit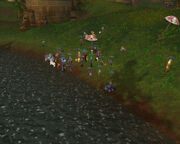 The Fish 'n' Bakes have been held since the beginning of 2007. Matriarch Astra, Ethnarch Delanae, Exarch Qialynna and Exarch Antares of Athanatoi (all ranks are stated as they were at the time) conceived them. Originally, they were held as small meetings around a campfire to raise the morale of the soldiers after long fights. They proved popular among the scouting unit which the Athanatoi was at the time – eventually, the decision was made to open them up to the rest of the Alliance (and, eventually, the Horde too). It was also decided that they ought to use them to teach the rest of the Alliance the survival skills that the Athanatoi had learnt – the ability to fish for food, and the skill of cooking the food they caught.
The first official Fish 'n' Bake – under that name – was held in February 2007. The events were held every two weeks for a while – there was a lull in their appearance for a few weeks over the summer period of 2007, before Kall started organising them.
When the Athanatoi disbanded and reformed under the name of Immortalis, the decision was made to continue the Fish 'n' Bakes as normal.
Previous Fish 'n' Bake venues
Edit
The full list, which was compiled by Senya, can be found here. All dates are in DD-MM-YYYY format.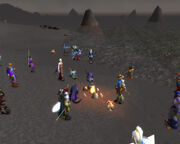 23-06-09 Teldrassil (no screenshots)
Related links
Edit