This page is Archived.
If you disagree with this Archive, please explain why at the comments below.
Archived Pages are pages that:
Are outdated or unused.
"Belong" to players who are inactive or have left the realm.
Are well-crafted and can serve as an example for others
Contain good content.
Archived pages are not likely to be updated anymore and serve as a backlog of our realm's past.

---
Sir Gaebriel of Sunshine, Knight-Herald of the Lightsworn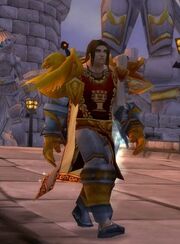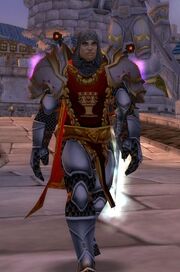 Physical Traits
Edit
Gaebriel appears is his early thirties, and is of average stature and height, seemingly in healthy condition. His face is unscarred and determined, with hazel eyes and long, slightly curly chestnut brown hair reaching to over his shoulders.
As fitting for a Paladin of Light, he always appears well kept and recently groomed. His armour appears well cared for and polished to a shine. The silver is offset with bronzed golden trims, engraved with the sacred scriptures and tenets of the holy Light. It is adorned with charms and embellishments, some hanging from delicate chains, or beset with gemstones. A heavy cloak hangs over his shoulders, reaching all the way to his ankles. A holy Libram hangs to his side, a worn, middle-sized tome bound in engraved leather.
His tabard displays the heraldry of the Order of the Lightsworn, a golden chalice on a deep red field, crowned with golden leaves. An ornately crafted longsword hangs from his belt at his left side. When drawn from its scabbard, it issues a faint red-golden glow. Upon inspection, the words "Holy Retribution" are etched into the blade. Three finely wrought chains can be seen hanging from his neck. One bears a golden sun pendant, appearing weathered with age, while the other holds a small silver locket. The third chain seems extremely delicate, and bears a pendant with an elven design. A vibrant moonkin feather, green in colour, is attached to his left shoulderguard.


Race and Class
Edit
Human Paladin
Occupation
Edit
Paladin of Light, Knight-Herald of the
, Lightsworn, Knight of Stormwind. Has experience in oratory and speechcraft, as a battlefield commander and strategist, stablehand and metalworker (armour and weaponry, as well as agricultural equipment).
Arthur Willowbranch (foster father, deceased)
Autumn Willowbranch (foster mother, deceased)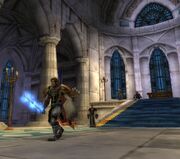 (foster brother, adopted, missing and presumed deceased)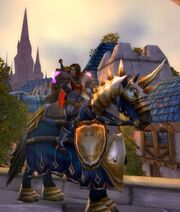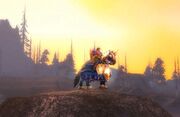 Background
Edit
Gaebriel rigidly adheres to the chivalric code of honour, and would rather die then forsake his vows to his King, his Order and his people.
Though his self-expectations are unattainably high and strict, he acts gallant and forgiving to those around him, provided they
share his beliefs and principles. Once he sets his mind to a course, he can be stubborn to the point of being foolhardy.
On the field of battle, Gaebriel can be found at the front lines, inspiring his allies with great courage and strength
and vanquishing the enemies of the Light with righteous fury.
He was a mere three year old infant when the first war raged across the southern kingdoms and the great city of Stormwind was sacked by the invading horde.
Lying abandoned at the roadside amidst maimed and slaughtered civilians, he was found by the farmers Arthur and Autumn Willowbranch, amongst the refuge caravan bound to set sail
across the sea to the northern lands of Lordaeron. Many refugees settled in the towns of Southshire and some in Hillsbrad, the latter becoming his new home, yet so far away from where he was found.
Another orphaned child was also taken by the Willowbranches, this one a few years older. Jonathan of the house of Archelor. The benevolent farmers, childless themselves, named the boy Gaebriel.
Sunshine, they would call him lovingly, reminding of where they found him in the forests at twilight, illuminated by a soft ray of fading sunlight, piercing through the canopy of the trees.
Against all odds the makeshift family prospered on their newly built farm, and Gaebriel served as a stablehand, while Jonathan enrolled in the local militia. But then, the war came to the north.

As the Horde armada invaded Hillsbrad was overrun and mercilessly slaughtered to a man. As his foster parents barricaded the doors and
windows, wooden planks were no match for the ferocity and bloodlust of the invading horde, and both died trying to protect their adopted sons, skewered mercilessly by the blood crazed orcs.
Overcome with grief and fear, Gaebriel, was dragged along with Jonathan as they managed to escape through a window. Quickly making their way to the stables and setting the horses free to run for
their lives, they mounted up and rode as fast as they could, afraid to look over their shoulders at the smoldering ruins of their home. Disheveled and bewildered, they arrived at Stratholme,
where they were taken in by the clerics at the chapel, as was custom for refugees.

In time, both enlisted into the Silver Hand, determined to stand valiantly in defense of their people, a stubbornness born from seeing so much war already in their short lives. Gaebriel became a stablehand again,
and a squire later at sixteen. After completing his apprenticeship, Gaebriel was knighted into the Order, and the two of them prospered, for a while.. As again, war would come.
With the plagued grain and the subsequent culling of Stratholme by prince Arthas Menethil, they found themselves inside a burning city, amidst the terrifying undead scourge and Arthas' men. Both Gaebriel and Jonathan fought valiantly, but again, tragedy would strike. Jonathan fought against impossible odds, but was overcome by an avalanche of living dead, just footsteps away from Gaebriel, who could not reach his foster brother in time amidst the confusion and the press of bodies. Then, a blow to the head, and all went black. Gaebriel awoke painfully and confused, arms and legs broken, on a carriage of yet another refuge caravan, heading southwards across the great sea, to his old home of rebuilt Stormwind. Alongside other evacuated squires and knights, he was taken to Northshire Abbey, where he was mended of his many wounds. There he laid the remainder of the third war to recuperate from his grave injuries, fading in and out of consciousness many a time, haunted by the visions of the burning city, and his failure to save his foster brother.
With his wounds recovered, but the Silver Hand disbanded, Gaebriel set out travelling the world as a roaming knight. In his travels he met his now close friend Druzius Crossfade, an intrepid
explorer of Kal'dorei origins, who taught him of the ways of his people, still new to the freshly formed Alliance.
Druzius apprenticed Gaebriel in the Order of the Shadowhunters under command of Sir Elsinor of Westfall The Shadowhunters, a branch of the Darkshire Nightwatch, were dedicated to purge the lands
of Duskwood from the evils that infest it, serving as guardians of the town. Gaebriel became the fastest apprentice in their history to be granted ascension into the Order's knighthood.
After proving his worth through countless deeds of valour and acts of selflessness, Gaebriel was granted entry into the Inner Circle as a Knight-Marshall, serving under the direct command of the Knight-Commander. Not long after, due to presently unknown circumstances, Gaebriel left his old Order and with it, came a vision, one of a most noble Order, dedicated to protect the lives of the innocent and defend the lands of the Alliance from the evil that continue to surround it, as he has seen with his own eyes so many times. And thus, the brotherhood of the golden chalice, the Lightsworn Order was born.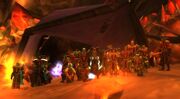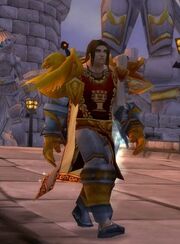 Criminal Record
Edit
None
Rumours and Hearsay
Edit
Knight-Herald Gaebriel is apparently quite a sought after bachelour - to the point that two of his female subordinates started a fight over him in his presence, while using something else as an excuse.
Women who know him have oft been overheard describing Gaebriel as their "little bit of Sunshine that brightens up the day"
It is said that Gaebriel is secretly engaged
Gaebriel of Sunshine forgot to screw the cap back on his [Bottle of Stalwart Chin Polish] and now some dragon, sleeping in eastern wetlands, awoke to the scent of its flowery fragrance and wants some of it too.
Ad blocker interference detected!
Wikia is a free-to-use site that makes money from advertising. We have a modified experience for viewers using ad blockers

Wikia is not accessible if you've made further modifications. Remove the custom ad blocker rule(s) and the page will load as expected.