This page is Archived.
If you disagree with this Archive, please explain why at the comments below.
Archived Pages are pages that:
Are outdated or unused.
"Belong" to players who are inactive or have left the realm.
Are well-crafted and can serve as an example for others
Contain good content.
Archived pages are not likely to be updated anymore and serve as a backlog of our realm's past.

---
Gremkarc of Orgrimmar

Gremkarc of Orgrimmar, at the Crossroads.

Title

Chieftain of Dagger and Totem

Race

Orc

Gender

Male

Faction

Horde

Class

Shaman

Age

30
Gremkarc of Orgrimmar is an Orc Shaman, chiefly focused on the ways of Restoration. A staunch follower of his Warchief, and his Warchief's principles, Gremkarc finds battle wherever he can find it. At 29 years of age, he is too young to remember his homeworld, and considers Azeroth his true home. He also considers himself wholly devoted to the Horde and to the elements which help it prosper, and that is why he doesn't have a second name. He would consider it too much like he was taking an interest in himself, and not the city he is meant to be serving. He attempts, through his shamanism, to have deep relationships with the elements, and it would be fair to say he's successful in much of this. He has little trouble in calling to them, and they have little trouble commanding him to do their bidding.
Full Title
Edit
Gremkarc of Orgrimmar, Chieftain of Dagger and Totem, and Shaman of Restoration
Occupation
Edit
As Chieftain of Dagger and Totem, Gremkarc's job is to lead his clan into glory, victory, and prosperity as a faction of the Horde. He is to ensure that the Daggers defend and attack crucial strategic points, and to maintain respect and dedication to the elements throughout all this.
Gremkarc's father is the elderly shaman, Gremkarg of Durotar. They met once, though the son did not know this. Gremkarc assumes all of his blood family to be dead. His mate is the orc rogue Guak Guthang. At around a decade and a half older than him, the two share a most unusual relationship, and it is debatable whether pups will ever spawn from this union. They lead the Dagger and Totem clan together, the two of them, and can be seen retiring to secluded places together whenever off-duty.
Physical Traits
Edit
Gremkarc seems to be living on a tightrope, with civilisation on one side, and the wilds on the other. His armour is well-made, fits him well, and makes his status as a Chieftain all the more credible. From a distance, he is eminently presentable. But look closer at the orc himself, and you will see other things.
There's a freeze mark on the lower left side of his chin. There, the skin is almost blue with the cold. He shivers every so often, even in hot conditions, even when inside buildings.
Recently, the orc has put on weight. Still a few kodo burgers away from being fat, Gremkarc can hardly be called slim anymore. His shamanistic belt can hardly contain the stomach it holds.
A bare body would reveal dense scarring down the back of his right leg, six stab marks in his chest, and a nasty straight cut running horizontally around his right thigh. His right elbow also has several teeth marks marring it.
There are three different trollish amulets around his neck. Each one is adorned by a gem. One is yellow, one is red, and one is blue. They are dull.
When he speaks, a carefully toned voice comes out. The shaman has obviously had lessons on how to speak as a shaman, and the authority inherent to a Chieftain also drifts in. His tone changes for the different people he speaks to - he resorts back to committed grunt in the presence of an authority figure. In front of his clan, he speaks as a definite leader, but one-on-one, when things are more personal, his voice has more humour to it.
When he carries his mace, you can see an insignia hanging down from the weapon's hilt. It is seemingly not one originating from the Horde. It has a coloured picture of a totem on it.
Character History
Edit
Pre-Character Creation
Edit
Gremkarc was a mere pup, a baby in somebody's arms, when he came through the Dark Portal. Like so many of the orphans of the First War, he was moved from camp to camp, clan to clan, and minder to minder, being with each for very irregular intervals. Although the orcs that raised him wished he would become a warrior of the Horde as fierce as any other, he was still held as being an inconvenience. As soon as he could walk, he was given an axe. As soon as he could walk and carry an axe at the same time, he was given a shield. As soon as he could walk, carry an axe, and use a shield at the same time, he was deployed to battle. His first skirmish was at the age of six. A wide-eyed, and smooth-skinned orc, he would often be the last thing his enemies would see, as they focused on him, realized they could not possiblydo the little one any harm, and then be carved in the back with a larger, meaner orc's axe.
The First and Second Wars were mostly a confused rollercoaster ride for the young Gremkarc, and he joined the other orcs when they fell both prisoner to Internment, and prisoner to lethargy. Upon the breakout, and subsequent exodus to Kalimdor, he began to serve as a grunt, though it was quite clear to the wiser shamans that travelled alongside him that his work with an axe was not going to be the thing which catapulted him to great things.
His shamanism was beginning to make itself known. First, through whispers, like the falling of soil, in his dreams. It was happening to many orcs at the time, and Gremkarc was not alone. He knew what was happening, and he responded in kind. Late at night, when campfires were lit, he would make sure to keep feeding them with wood. He'd scold any allies he'd see urinating in rivers, and to the rivers themselves he would make sure no logs hindered their paths. To some of his fellow grunts, this was pedantic. Trivial. Petty. But Gremkarc had a love of the elements, and a deep respect to them. He put himself to such menial tasks because he felt humbled enough to do so. When it came to the final battle of the Third War, upon the peaks of Mount Hyjal, Gremkarc found himself in a camp, some way down the mountain, aiding in the treatment of injured soldiers. Like them, he missed the battle, and this was the first step on the road to unimportance for him - something which would trail him for years after. He was not a great healer then, and only called to Water to rinse away slight wounds, like cuts and bruises, but the effort was there. He saved no lives, but he earned respect, and more eyes from the more experienced shamans around him.
When the orcs set up their home in Orgrimmar, and the shamans were free to commune with the elements in relative peace, Gremkarc received more focused training. His personal mentor was a shaman scarred by what he had seen happen to his race for the last few decades. Like many of the older orcs in the Horde, he was determined, utterly determined, to prevent anything like it, on whatever scale, from happening again. His name was Drass, and he bombarded the young Gremkarc with notions meant to knock any arrogance out of the future Chieftain. He told him that the reason for his entire existence was to serve others, and that every opportunity should have been made to protect allies and the elements. He told him that, as a shaman of restoration (the path that Gremkarc had chosen for himself, when he first started to heal), he could not survive without other people, and that he should be thankful for their presence. He told him that, whilst doing his job, he should have been wholly focused on the plight of his allies, and not himself. He was irrelevant. What mattered was the survival of the rest of his group. Of course, a dead healer would make death for them all more likely, but self-defence was a secondary concern.
Early Adventures
Edit
Drass was a shaky figure, and he was one of the first to die due to the ending of the Blood Curse. But his influence on Gremkarc was already assured. The young shaman was firm in his belief that, as a shaman, his own comforts and wants were immaterial. His life was there to ensure the betterment of the lives of others in the Horde. He did not see this all-encompassing goal as a bad thing, quite the opposite. He was honoured to carry out the tasks laid before him, and it was not long until he left Orgrimmar, to serve the Horde as an adventuring grunt. His Trials in the eponymous Valley were over quickly. Scorpids and boars fell to his handling of the elements - even if his grasp on them was still weak they were just small beasts. The desert heat was no trouble to him either, and in fact he embraced it. And the desert earth? It called to him, and, through this call he was drawn to an area hidden from the eyes of many. An area walled by high hills, an area which, if one of these hills were to be climbed, gave a stunning view of the nearby Ratchet. But the settlements of goblins were not important here, next to the Earth Elemental that spoke rumbling words straight to his mind. It was the first time an Elemental had appeared to him, and him alone. The most impressive rock told him of the elementals in all parts of the world - including the Eastern Kingdoms. Some would be friendly, some would be vicious, some would hide away, some would seek to manipulate, and some needed help. Gremkarc would encounter all of these groups, the elemental said, and eventually he would be revered by the elements. If he did not fail.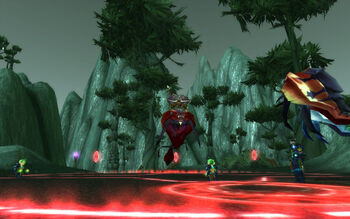 With this knowledge in mind, and in possession of a totem made of Earth he had rather crudely crafted, Gremkarc set out for Razor Hill. Performing all tasks given to him as told, and sparing very little time at all to rest and eat (Gremkarc does not eat much, even in his present state), Gremkarc found little trouble in disposing of enemies, even by himself. He did pick up one or two temporary allies in his travels, but those times were times when things were transient. Even his weapons and armour were not long lasting - a blacksmith would always have better quality items for him to wield. His skills developed, and he worked up quite the bodycount of quilboar and humans, making them his sworn enemies.
It was whilst returning to Razor Hill after a heavy bout of raptor killing that Gremkarc was called over to talk to a recruitment officer of the Horde. The orc, revealing himself to be a representative of the forces stationed in the Eastern Kingdoms, was looking for young grunts to head to the blighted Ghostlands, to aid the Sin'dorei in controlling the various menaces of their once beautiful land. This warrior spoke with a command that Gremkarc had rarely seen, and it was through this that he was compelled to take part in the battles ahead. The representative looked confused that a shaman, still so unlearned about Kalimdor, would wish to go BACK to the Eastern Kingdoms, and warned him that, at least in the north, few shamans dwelt there. If he needed guidance from his trainers, he would have to track back and forth. He'd see a land where the elements were more distant, because of the different approach the former high-elves had to civilisation. And, most off-puttingly, there were few of his race in the lands of Quel'Thalas. There were certainly trolls who made their home there, but these were Amani. Hardly allies.
Despite all of this, Gremkarc was not deterred, and was soon signed up for service there. He would fight largely by himself, and would hone his skills without the sway of more experienced shamans. He had the idea, not wrong, that a shaman's progress was mostly dependant on getting on with the communing, and the channelling, and not on the being lectured by those who had only recently regained the power of the elements. After amassing everything he needed for the journey, and exploring his beloved Durotar for the last few days he was there, he boarded the zeppelin which led to Tirisfal, and thus passage to Silvermoon City. He was to help allies of the Horde, battle the Scourge, and heal a tortured land.
From the eerie ruins of the Undercity to the bright, vivid excess of Silvermoon, did the orc travel. Both locations, quite alien to him, were revelations in who his beloved Horde were allied to. Both "races" lived in broken cities. Both were hounded by former allies. As he walked through the city of the Blood-Elves, he saw an abundance of green crystals, complete with eyes within staring out at the world. He presumed this to be fel. Being a shaman, he knew very well why the Sin'Dorei were the Sin'Dorei and not the Quel'Dorei, but he also knew that he was not here to judge. With this in mind he quietly traversed the city, ignoring its colourful characters, multitude of stalls and shops, and street entertainment. To be distracted by any of that would be to be a poor recruit. It was also becoming clear to him, about how out of place he was in all of this. With no orc brothers or sisters to walk through the streets with, it was like he was on a different world entirely. He did not understand Silvermoon, and the excessive comfort that the elves lounged in, and to fight for Warchief Thrall here seemed quite indirect. Nevertheless, he made his passage to the entrance of the city and boarded transport in the form of a Dragonhawk (he was surprised that the beast's slim girth could support him), heading to the Ghostlands.
That was when he first caught sight of the impossibly long trail of death and destruction. The Dead Scar. Gremkarc had heard tales from the older grunts in the Horde about the mockery to life that the Path of Glory back on the homeworld was. Just as Hellfire was cursed with a vile road, so was Quel'Thalas. It stretched for miles. It was wide, and would have been wider, if not for the steep banks where grass grew and undead didn't linger. The sheer scale of the misery opened Gremkarc's eyes to the task that he would have to accomplish here.
It quickly became apparent that the land's beauty had been lost, and would never return. The Ghostlands was a sodden place, the very land itself a manifestation of the Scourge. Zombies here came in many forms: fallen Quel'Dorei, trolls, animals, and the grass, the trees, and the architecture. Attempts at calling Earth to renew the blackened lands he stood on went in vain, just as they had for many, many others. If Gremkarc was to do anything of worth here, he would have to fight.
(will be continued)
The Heroes' Society
Edit
Gremkarc can't remember the day when a tightly sealed envelope appeared in his mailbox, willing him to open it. The letter within it had handwriting that was flamboyant, punctuation that was abundant, and a tone that was in danger of flying off the page into the sky above.
Stories Involving Gremkarc of Orgrimmar
Edit