(Pronounced: Hih-ka-more-ee Loo-nar-hor-n)
Featured Article
This article has been voted by the community to be the featured article. This Article contains outstanding information or is innovative to the Wiki. Check here for a list of all Featured Articles.
---
Hikamori Steelhoof
Vital statistics
Title
Priestess of the Earthmother
Born As
Hikamori Lunarhorn
Gender
Female
Race
Tauren
Class
Priest
Age
34 (Human Years)
Birthday
17th April
Beliefs
The Earthmother
Alignment
Neutral Good
Affiliation
The Thousand Eyes
Occupation
Instructor, Jewelcrafter
Location
Thunder Bluff
Status
Active, Disabled (Legs)
Relative(s)
Active (Missing), Deceased
Key Trait
Generosity
At a Glance
Edit
Introduction
Edit
Hikamori is a gentle, kind soul. Her generous deposition often buys her many favours and friends. Her strong belief in the Earthmother often guides her in a straight and narrow path to be walked precisely. Her trust lies in but her closest of friends, but is usually cheery to all.
Personality
Edit
Most of the time, Hikamori keeps a cheery disposition and often humours others with kind words. However, she often has great mood-swings and will turn very sarcastic and become quite dispassionate - nearly the complete opposite of her usual self. She is quite generous and will often help others out in their time of need, or simply provide small assistance - or just a gift.
Currently
Edit
Currently, Hikamori spends her time helping to train young, willing calves in the ways of Priesthood for a strong part of the week. She approaches it with a passion to give the Calves the abilities she never had when she was young.
She also works as a Jewel crafter on a Part-Time basis; creating charms, bracelets and other pieces of jewellery; mainly with Tauren origins. However, if asked to - Hikamori will gladly try and create any piece of fine-wear within her ability.
Daily Routine
Edit
Hikamori wakes up early in the morning, generally between 5:30 AM and 6:00 AM. She spends at least an hour washing, dressing and grooming herself before getting Spiced Loaf for breakfast.
At 8:30 AM, she arrives on the Elder Rise awaiting her class to beginning at 9:00 AM exactly. For the first hour, she teaches History of Tauren and their culture to the calves, then taking a fifteen minute break for a drink and half Fish Loaf.
At 10:15 AM, she resumes classes to teach the calves different Priest techniques. Following the hour, she will often tell a story or two to take her until mid-day, 12 PM. At this point, she dismisses her class and takes lunch at the Inn.
After an hour of relaxation, she resorts to a quiet part of the Bluffs for a good two hours of deep meditation, lighting a candle or two.
After meditation, Hikamori spends a further 30 minutes spending on adjusting and correcting her appearance; taking the day to approximately to 2:30 PM. She spends the rest of her afternoon with various activities; generally training, working or socializing.
At about 6:00 PM, Hikamori takes dinner - normally either fresh meat from the hunt accompanied by vegetables, or fish with a small cup of Tea or Firewater. She spends the rest of the evening with the Eyes or going about Jewel crafting.
Appearance
Edit
Hikamori is rather short for a Tauren, measuring in at just less than 6 and 1/2 foot. Her weight matches her petite figure, being much lighter than the average Tauren; often being lost easily in a crowd.
Her face, is lined with the odd contour giving a mild effect of wrinkles. Aside from that, her face is a gentle sight. Light green eyes stand out prominently from the white fur. A soft cream resides on her fur on her face, giving the impression of youth.
Her body, for the most part, is un-toned and feeble, especially her legs. This, however, shows off her slightly curvaceous body to its best. Her breasts are relatively small for a Tauren, matching the rest of her body.
Hikamori wears rich and expensive clothing, often in bright and of a range of colours, most famously Blues and Purples. Each robe contains detailed and intricate designs. She always wears matching accessories; gloves, rings, necklaces, and often shoulder pads.
She never keeps and weaponry on her, insisting that if trouble were to arise, she could cope. However, she is never seen without several tombs of incarnations to the Earthmother, accompanied by her bag.
Equipment
Edit
Mu'sha Earring
Hikamori wears an earring in the shape of Mu'sha. It is enchanted to give the look of a dark, glowing mist around it. While wearing it, it allows her to see easier at night time. She crafted the earring herself using a Moonsteel casting, with small, delicate Moonstones. She then got some assistance with enchanting the piece of jewellery, taking it to the Brighthooves. Hikamori keeps her earring in at all times and is rarely seen without it.
Maple-Wood Walking Stick
Because of Hikamori's physical disability, she relies heavily on her walking stick. Originally created with Maple Wood from the Stonetalon Mountains, the cane is a sight to behold. With very intricate and precise engravings of a geometric sort, her walking stick is a thing of beauty; matching her entire persona. Gifted to her from Seer Kaya, Hikamori is rarely seen without her most precious belonging.
Leather Satchel
Hikamori's satchel is no different from the common; aside from a few personal touches, with various coloured small stars littered across the satchel's sides. The straps are made from a light coloured leather, along with the rest of the bag. She treasures her satchel dearly as it contains goods of high importance to her.
Tome of the Earthmother's Blessings
Inside of her Satchel, Hikamori carries a most important book to her. It contains various pieces of information regarding Priesthood within the Tauren society, as well as Chants and Incantations. When in peril, she will take the book out and use it like a weapon - but reading instead of slicing.
Candles
Along with her Tome, her candles are regarded highly important - enough to warrant being carried around in her Satchel at all times. While meditating, Hikamori often lights one or more of her candles to help herself concentrate on nothingness. Unscented and colourless, the small, simple flame provides a suitable distraction from the worries all around her.
Childhood
Edit
Tribal Years
Edit
Hikamori started her life on the plains of Mulgore, like many other Tauren her age. Her small tribe, her parents, a sister, her uncle and aunt, had lived quite close to here Bloodhoof Village resides, often visiting it to get essential supplies the six required.
Her calfhood was plain and uninteresting. With the years going by, no apparent skill became particularly evident, this frustrated the young calf. Her only remarkable feat was the ability to remain still for several hours grooming herself to perfection, a trait her parents loathed.
Hikamori was very close with her sister, Nakairi. The pair were near inseparable, always giggling and teasing each other. Hikamori looked up to her elder sister; she had shown great potential as a druid, which Hikamori was greatly jealous at for her lack of skills.
It was a rainy day on this occurrence. The great rains of Mulgore had forced the Lunarhorns to stay inside their hut for nearly a week now. At this point, the six direly needed feeding. Nerak volunteered to go hunt and get plentiful supplies for them all. Spotting a lone Kodo, Nerak instructed his Tallstrider to assist him in downing the beast. Upon firing an arrow to its leg, the Kodo charged towards the Tauren - who had hastily

dived out of the way, expecting it. On its return, Nerak shot another arrow at the Bull, hitting its thick and tough skin, barely managing to avoid this pass of raging bull, falling to the floor. On his hands and knees, deep in mud, Nerak muttered a desperate prayer to the Earthermother - he couldn't finish before the rampaging bull struck him down for good.
With each passing day Hikamori's father, Hesuak, would ask "When will you grow up." or "Why aren't you hunting already?" While already feeling sad from her skill less life, she took it upon herself to prove to her father she was more than capable and planned to show him by leaving and claiming a great victory in his name.
On the eve of her escape, Hikamori felt fit to tell Nakairi her plan. After a brief, teary exchange between the two closest of close sisters, Hikamori packed her little belongings and started her trip towards Bloodhoof Village; not to see her tribe again. (Or for a long time, at least.)
After her short trip, but what felt like nearly a day to the young Hikamori, she arrived on the outskirts of Bloodhoof. An'she had just began to rise as she had slumped herself in one of the rowing boats next to Stonebull Lake. While gathering herself for a few moments, the calf started to begin her plan.
A few minutes later she climbed out of the boat and headed hastily for the Warrior's Training Circle. She snuck around the edge of the village, being careful to try and avoid and unnecessary contact. She set gaze on the circle, trying to pick out the strongest of the bunch.
Defiantly, she trotted up to him, ignoring all the jeers from the other training Warriors. She spoke to him somewhat like a lesser, demanding her will be done. Luckily for her, he was more than happy to oblige to a challenge from a weak, small female. After all, what could be more fun than beating a feeble calf in front of your friends?
Accepting her challenge to a duel, the strong warrior immediately threw his fist at Hikamori, throwing her to the ground with an almighty force. The warrior stood there, laughing at the calf on the floor, the fellow Tauren jeered and edged him on. He showed little mercy.
On an Adventure
Edit
Mid-way during the fight, the large crowd and noise caught the attention of the Seers in the tent nearby. A brief moment later, the Elder stomped to the grouping; shocked by the sight. Instantly dismissing the young Warriors, he picked up Hikamori and carried her to the Seer's Tent.
With a brief interlope of healing, Hikamori awoke. After blinking a few times, she tried to stand, but failed. She collapsed back to the ground. Tears had begun to swell in her eyes with sudden realization of what had happened. With a brief part of comfort, the Shaman picked her up and carried her on his back on the road to Thunder Bluff; while the young calf was still weeping.
With a now sleeping calf on his back, the Shaman walked the path to the newly founded Bluffs. He took her to the Elder Rise, thinking this would be the best place for the unknown orphan. On arrival, the Shaman left Hikamori in the tender care of the Druids.
Childhood Timeline
Edit
---
Adolescent
Edit
Growing as an Orphan
Edit
With the assistance of the Druids on the Bluffs, Hikamori regained some of her mobility with thick walking stick, although refusing full muscle regrowth; insisting that her legs would recover naturally.
Over the years, Hikamori showed a small interest in the ways of druidism, but she was often in debate with Tahu and Kaya about the Earthmother's Will. She also portrayed an extra-ordinary skill in gemlore; something which could not be revealed with her time with her tribe. She would often take ore from the Stonehoof tribe whom settled in the Bluffs and prospect it for gems, making little coin for herself.
A True Skill
Edit
In the coming months, Hikamori gained herself a small reputation as a Master Jewel crafter, taking in raw gemstones or valuable items and turning them into trinkets, pendant, rings or necklaces. With her extra coin in her pocket; she also gained herself a reputation as a person obsessed with appearance, spending most of her wages on clothing and fine attire.
Throughout the events of the Northrend Campaign, Hikamori remained at the Elder Rise, assisting the druids in healing injured or insane patients. It was during this time when Hikamori's talents revealed themselves. She displayed an exceptional skill at treating the wounded; although not quite the normal way of the Druids. Instead of using the powers of nature, she channelled the Earthmother's powers, not unheard - but rare.
Adolescent Timeline
Edit
---
Adulthood
Edit
After the years of the Lich King's downfall, Hikamori and her closest friends, Kaya and Tahu, set out on the way of Priesthood, gaining a part of the Elder Rise for themselves. In the following months, the new Priests set out on training with their new powers, practicing with many disciplines of their magic.
Once many of their spells were perfected, Hikamori sought out a simple solution to her lifetime problem. They had studied magic that allowed them to levitate small objects; Hikamori wanted to take it further. With consistent practice, she achieved her goal - lifting her own body weight. It didn't last for long. Her quick solution was frowned upon by the others, and she quickly resorted back to her cane.
After the first wave of injured return from the Shattering's many battles, Hikamori stopped her healing duties, horrified by the injuries that had come to her. With the extra time she had on her hands, she spent more time studying Priesthood and Jewel-lore.
Contacting the Lunarhorns
Edit
After a conversation with a friend, Hikamori decided it was time to write her tribe a letter. She had no idea where they were and chose to send the letter to different locations they were most likely to be. Because of the lack of written Taur-ahe, she wrote her letter in non-fluent Orcish. It read like this:
Dear Tribe

It has been very long since I last saw you, I am very sorry for leaving. I just wanted to prove myself to you all. After I left, a nasty warrior hurt me and damaged my leg, so a shaman took me to the Bluffs. Druids there took care of me and I grew up. Now I am a Priestess and help young calves learn their ways. I am very proud. How is mother, is she still ill? I wish her well. I would like to see you all again, I am missing you much. I will see you again soon.

Hikamori
Hikamori sent the letter to The Crossroads, Orgrimmar and Sun Rock Retreat. Recently, she had received a letter of return from her sister, Nakairi. The pair have been exchanging letters ever since - A Transcript.
On her 33rd Birthday, Hikamori got the guts to visit her late Uncle's casket at Red Rocks; this being the first true 'contact' she had had with any of her family since she left. Dressed in her full Priest gear, she conducted her uncle's Last Rite in a small ceremony. In tears, she sat there for nearly a full hour, regretting her choice many, many years ago. However cliché, rain started to fall in Mulgore; with this Hikamori decided to leave the Casket and head back to the Bluffs, hoping for something positive.
---
Recent Years
Edit
A Trip to Northrend
Edit
Content Incoming
Southern Barrens Conflict
Edit
Content Incoming
Taking a Break
Edit
The following weeks after the Southern Barrens Conflict were quiet. Hikamori went about her daily business, happy to be with Thranden. Following the weeks after Deathwings' fall, all was well in Hikamori's life. For the first time in a while, she was content.
During this peaceful time, Hikamori took the decision upon herself to train and learn, pledging herself as a Seer-in-Training, a step up from her previous position. In the month of training, Hikamori dropped most things in her life - spending less time with the Eyes and Jewel crafting. A short time before the discovery of Pandaria, Hikamori severed all ties to the Eyes - Thranden included. After an emotional farewell, she set herself to a few months of focused training.
It was early January when Hikamori returned from her training, now naming herself as Seer. Not taking too long, Hikamori contacted the Eyes and became a part of it, keeping up with the most vital news via letters. Not spending much time mourning those who perished or were lost, Hikamori joined back in the antics of the Eyes.
Upon being re-united with her friends, Hikamori pursued Thranden - trying to fix any sour emotions left from their split. The two bickered, with Hikamori ending in tears. The following days, she was introduced to the new Maen; Haloyakee Stoneshatterer, not really getting along after their first event together: The Eye Memorial. During the meet, Hikamori became acquainted with a new person, Jingxu Thunderpaw. Although the friendship did not come quickly, the two soon became friends after an event with Marg Swiftshot and the other Eyes, training the group after Pandaria.
With the following weeks, Hikamori integrated into the Eyes easily, finding some of her old friends gone but meeting new ones instead. Again, Hikamori was in a good place - apart from the separation with Thranden.
Siege of Thunder Bluff
Edit
The Eyes had gained word of centaur scouts roaming the outskirts of Mulgore. Ordered by the Arch Druid, Hamuul Runetotem, Hikamori and a handful of other Eyes proceeded to the Southern parts of Mulgore. Searching for any trace of the Centaur, the Eyes quickly stumbled upon a small group of centaur scouts. A battle ensued, the Eyes taking a few injuries – including Hikamori's arm: hit by an arrow. A few of the Scouts managed to escape briefly as the battle turned in the Eye's favour. Cleaning up the wounds, the Eyes searched some of the bodies for clues. Quickly, however, the few centaur returned – picking Haloyakee Stoneshatterer up and carrying her off before the helpless Eyes could do anything.
Reporting back to Hamuul, the Eyes explained their situation to the Arch Druid – minus any figure of authority. Presented with a question, Hikamori and the others decided to leave Haloyakee for now and defend their home; there were reports of an attack being planned on Thunder Bluff.
With a clear answer, the Eyes decided to stay at Thunder Bluff for the next few days in case of an attack. Early evening during the next few days, rain started in Thunder Bluff – but not like normal. It was torrential. The Eyes sought for shelter at the local Inn. After finishing a game of 'Human Whispers', proposed by Hikamori to pass the time, a young Tauren of Camp Sungraze ran to the Inn, shouting loudly of an attack. Without hesitance, Hikamori quickly questioned the lad on all he knew, asking Yuanji to get other eyes and to go speak to Hamuul.
Assuming direct control, Hondabor Steelhoof made the choice to go and 'rescue' any survivors of the attack. After mild persuasion of the Lift Guard, the handful of eyes travelled to the small camp north of the Bluffs. Greeted with nothing, Hikamori asked if the hoof prints of the Centaur could be tracked. Simply, they had come out of nowhere. A crackle of lightning sounded across the plains, originating from the Bluffs. With that, Hikamori suggested "We should get back there." 
Arriving as quickly as possible, a battle ensued over the bogginess that was Thunder Bluff. Healing as much as she could, Hikamori provided plenty of rejuvenation to the Eyes, as well as giving them an extra oomph throughout the fight. As the fight climaxed, Hikamori, the Eyes and Hamuul were all pulled up to the top of the centre totem. Greeted by a big Centaur, the Eyes fought and slayed the big one and drove back the remaining forces. Shared relief was sighed across the Bluffs.
Into Feralas
Edit
In the few following days, The Eyes and Hikamori rested before setting out to find and rescue Haloyakee. They started by walking through Stonetalon Pass into Desolace; Magram Territory. Scouting the area, the Eyes did not find much - but Croaky was captured as well. Over the course of the night, The Eyes saught refuge at Ghost Walker Post where they spent the night. During this evening, Hikamori healed and bandaged Mei Jadepaw's leg, in which she was struck by an arrow in the leg.
After another fight, the Eyes found themselves heading into Feralas. The group spent some time in Camp Ataya before moving on to Mojache, where again the Eyes spent some time. These few weeks, however, were a lot more eventful than the previous days.
In the subsequent evenings, Hikamori rested in the local Inn with not much to do. Her and the Eyes spent several nights talking and not much progress was made in the efforts to rescue Haloyakee. One evening, Hikamori decided to buy a flask of Firewater from Innkeeper Greul. Being a very light drinker, Hikamori quickly became intoxicated, having the Inn to herself as other Eyes had gone fishing. Began the ravings and paranoia of evil jellyfish attacking her. Quickly after mentioning the creatures, Hondabor returned to the camp and looked after the drunken Seer. After an exciting evening, Hikamori ended up climbing into Hondabor's hammock once he was asleep. In the morning, Hikamori and Hondabor both sat down and talked about the previous nights antics and came to the decision that they were to become a couple.

---
Talyn Steelhoof (Lunarhorn)
Edit
| | |
| --- | --- |
| Relative | Daughter |
| Age | 0 (Born 1st July '13) |
| Occupation | Baby |
| Fur Colour | White and Black |
Talyn was Hikamori's firstborn to Hondabor. Talyn's fur is a shining white, much like her mothers, but lined with multiple black spots and patterns across the rest of her pelt. Carrying the Lunarhorn tradition, Talyn was born with natural black horns pointed in a curling fashion upwards. Talyn also carries the eyes of her mother - being a deep green.
Hesuak Lunarhorn
Edit
| | |
| --- | --- |
| Relative | Father (Missing) |
| Age | 64 (Expected) |
| Occupation | Hunter |
| Fur Colour | Light Brown |
Hesuak is a strong, narrow-minded Tauren. He places firm beliefs in the old ways of the Tauren before the Horde. He is exceptionally skilled with his bow; which is he never seen without. His body is well toned and of average stature. He has a strong sense of morality and will strive to do what is best for the Tauren.
Wanuna Lunarhorn
Edit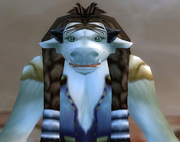 | | |
| --- | --- |
| Relative | Mother (Missing) |
| Age | 59 (Expected) |
| Occupation | Druid |
| Fur Colour | White |
Wanuna is much unlike her Mate, feeble and small. However, she was strong with restorative magic within Druidic ways. However, Wanuna had a life-crippling illness, untreatable and unknown. Throughout the years, she got weaker and weaker. She has a heavenly white pelt with emerald green eyes. She shared Hesuak's beliefs to the word, often backing him up.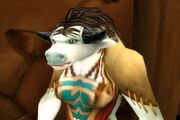 | | |
| --- | --- |
| Relative | Sister (Missing) |
| Age | 36 (Expected) |
| Occupation | Druid |
| Fur Colour | White |
Nakairi is the elder sister of Hikamori. The pair share very close appearances, white pelts, green eyes, short stature and small build. Nakairi had a very strong personality, always wanting her way while still accepting the views of others. Much like her sister, she has extremely generous and helped her out in her most dire time of need.
Nerak Lunarhorn
Edit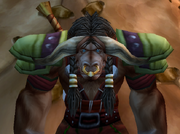 | | |
| --- | --- |
| Relative | Uncle (Deceased) |
| Age | 62 (Expected) |
| Occupation | Hunter |
| Fur Colour | Brown |
Nerak looked similar to his brother-in-law, well built - but taller. He shared a common skill with him, being a crack-shot at a great range. He possessed a special bond with a Tallstrider which was always following him. Nerak met his sticky end while hunting Kodo; trampled to death by an angry bull.
Ahna Lunarhorn
Edit
| | |
| --- | --- |
| Relative | Aunt (Missing) |
| Age | 58 (Expected) |
| Occupation | Shaman |
| Fur Colour | Light Brown |
Ahna, brother to Hesuak, was an average height for a Tauren, while being slightly lighter too. She had a faint brown pelt and hazel eyes. She had a not extraordinary talent with the elements, thought it was known she had a connection to them.
Notable Friends and Companions
Edit
Hondabor Steelhoof - Hikamori's current mate. Their relationship first started after a Hikamori became drunk during an expedition to rescue Haloyakee Stoneshatterer. After Hondabor went to sleep, Thranden told Hikamori in her drunken stupor to "Go jump in his bed". The following morning, the pair spoke about the previous night's antics and decided to become mates.
Thranden Stormhoof - Hikamori's ex-mate. The two met during Southern Barrens Conflict and spent much time with each other. The pair decided to split after Hikamori had to spend a lot of time working.

Ranali Wildmane - A good friend of Hikamori, the two often chat idly together. The pair became friends when Hikamori joined The Thousand Eyes.

Friends of Hikamori: Do not dispair, your name will be added to this list soon.
Companions
Edit
Patchy
Patchy is white and brown rabbit captured by Hondabor in Feralas as a gift for Hikamori. Patchy came about her name from the brown spots on her fur. Always wanting a pet rabbit, Hikamori was overjoyed by this gift and lost no time to tending to her new friend. Soon enough, Patchy was let out of her cage and follows Hikamori around.
Mari
Mari is a young Kodo calf to help accommodate for Hikamori's disability. Being young, the she is easy to mount and ride. She has also been trained to audio cues instead of leg movements. Mari has a tough, brown skin and a still developing horn. She measures only about 7" tall, perfect for Hikamori to ride comfortably.
Hikamori is very fond of stories and tales. She has even written a few of her own. Listed are a few of her most told or important ones.
She often tells the story of The Three Chieftains to her students. It is about Three Tauren who are granted a wish - and only one makes a good wish.
Hikamori often tells the tale of an angry Tauren, who slowly turned his life around by helping others.
Miscellaneous
Edit
Likes & Dislikes
Edit
Honest, hardworking people who treat others kindly.
Looking pretty; grooming and dressing herself to perfection.
Her job and the calves she teaches.
Fish & Bread
Being around and talking to people.
Listening to and telling stories.
Dislikes Edit
People with a generally annoying personality; Big-Headed, arrogant, irresponsible or dishonest.
Looking untidy
Places that are too hot or cold, or with too little foliage.
Drunken People
Arcane or Fel magic
Blood Elves and Undead
Rain
Showing people her legs.
---
Although a Healer herself, she refuses to accept muscle regrowth therapy for her legs and insists on letting them recover naturally.
She occasionally dips into Mind-Magic, projecting emotions into her targets head; albeit for Mental Healing.
She has often been compared to Rarity, to from My Little Pony Friendship Is Magic. They share quite a few similarities.
She hates rain as it ruins her appearance after spending a long time on it.
Her favourite colour ranges of a tone from blue to purple .
Scored '2' on a Mary Sue Test
Thinks Rabbits are adorable and wants one for a pet one day - Hikamori now owns a rabbit, thanks Hon!
Screenshots for Nerak and Wanuna are Tirixian's characters, Naurek and Telaka.
---
"Oh, that is just fabulous."
"So, if you are so clever and I am so stupid; why are you the faceless brute and why am I the eloquent priestess? You do know what eloquent means; don't you?"
"I'm so pathetic!"
"It smells here, and I don't like things that smell."
"This old thing? You can have it, I don't need it really. I insist, take it." - Giving a favourite broach to a friend
"I'm not whining, I'm complaining! This is whining!" - On an Airship to Northrend
---
The Official Mulgore soundtrack.
---
---
Currently updating History to current days!
Ad blocker interference detected!
Wikia is a free-to-use site that makes money from advertising. We have a modified experience for viewers using ad blockers

Wikia is not accessible if you've made further modifications. Remove the custom ad blocker rule(s) and the page will load as expected.