Monor's Chibis
Edit
Even after he quit, Monor 'Argendor' Felnor is still 'obsessed', so to say, with The Essence.
A nice way to show, is that he made a Monor chibi.


Close after the Monor Chibi followed a Geis Archrion chibi, mocking the fact that most people believe he is blonde. Note how the sign shows "Geis is blonde." Signed BK, standing for Bloodknight.
Eventually, by popular request on the Remnants of The Essence forum (which Monor still stalks like hell), a Vah'Dharz and Sindelle Corwinhold chibi was made.
One where Vadarz follows Sindelle, trying to lick her. There is also death present in this picture. With a big arrow pointing at it.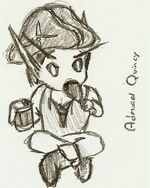 Other people's Chibis
Edit
Posted on the Remnants of the Essence forums (and before that the The Essence forums), was a chibi Quincy Lyon made by Hely.
And also on the The Essence Forums, a chibi Helanya Malcuin, made by herself.
Ad blocker interference detected!
Wikia is a free-to-use site that makes money from advertising. We have a modified experience for viewers using ad blockers

Wikia is not accessible if you've made further modifications. Remove the custom ad blocker rule(s) and the page will load as expected.