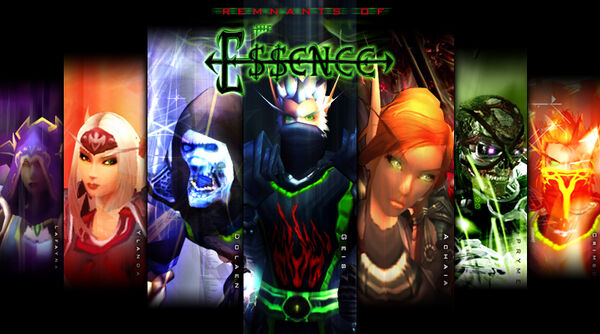 The Essence is gone... the Remnants remain.
We are not the same as we once were, but we will find a way to rise to that former influence and power. Banding together to survive in the world, never letting a good member falter.
The times have changed, and we must find our place here.
Background
Edit
The Essence, once the biggest power and influence on the realm, was shattered almost instantly by the betrayal of it's leader, Monor 'Argendor' Felnor. Everything they worked for, all the people they killed, and lives they destroyed was for nothing. The realm of Essence did not exist, neither did the Queen. Monor deceived everyone, and even himself...working under the influence of his split personality, Ronom.
Alas, The Essence was finished.
Monor was found subjected to horrific torture in both Horde and Alliance capitols, before being burnt alive and beheaded. Admiral Quincy, although enraged, stayed loyal to Monor and was determined to rebuild The Essence to achieve their dream, but was subdued by Blood Knight Master Sithren, and placed into a coma by Geis. Lyssah Lyon remains at his side. Seraphiel strangely took a complete change of heart, apologised for his wrong doings and moved on. Geis fell apart after the truth, taking on a state of depression and self-disappointment, dedicating his life to nothing. He joins Tarnished and re-establishes himself, gaining connections with Horizon. Now, still hunted by Sithren and many whom he hurt, he is more outcast than before.
But in this time of reflection and healing, he realises The Essence wasn't for nothing... Even if it was built for a reason that didn't exist, it's soldiers were real, and their symbol was known and feared throughout Azeroth. The power never lay with some fictitious Queen, it as always with it's soldiers.
Many of The Essence had dispersed, taking up new identities and carrying on with their lives. But the flame of The Essence still burns on in them, secretly they crave to return to the glory they once shared amongst their fellow members.
It is now known to many that The Essence left a large footprint of their influence throughout the realm. The Essence inspired unity, bringing all manners of alliances together. Guilds stood side by side in battle; even Horde battled alongside the Alliance, to destroy a common enemy. Now that is lost in a tide of war and grudge.
Leader & Officers
Edit
Related Information
Edit
Ad blocker interference detected!
Wikia is a free-to-use site that makes money from advertising. We have a modified experience for viewers using ad blockers

Wikia is not accessible if you've made further modifications. Remove the custom ad blocker rule(s) and the page will load as expected.