This page is Archived.
If you disagree with this Archive, please explain why at the comments below.
Archived Pages are pages that:
Are outdated or unused.
"Belong" to players who are inactive or have left the realm.
Are well-crafted and can serve as an example for others
Contain good content.
Archived pages are not likely to be updated anymore and serve as a backlog of our realm's past.

---
A request has been made to delete this page. What is your opinion?
Thumbnails in this article lead to semi-NSFW images.
"You cannot go back. No more than the man who burns his hands by placing them in the fire of his forge can say 'no' to his scars, can the woman who darkens her soul with curiosity say 'I have changed my mind'. There is no turning away from this."
Biographic Information
Full Name: Soraya Adalia Dwin'urdrenn (Dwin'urdrenn has a literal translation of "Dancers in the Sky". It translates into the common tongue as "Skydancer".)
Gender: Female
Race: Sin'dorei
Age: 118
Place of Birth: Silvermoon City.
Appearance

Soraya is determined. From the swift, heavy pace of her stride, the sharpness of her gaze, to the stubborn set of her features, everything about her is laced with purpose. Purpose and practicality. Her armour sports no adornments but is maintained and battle-worthy.
Her ash-blonde hair, thick and healthy, is clean and combed but hangs loose, framing her face and hosting only a single braid by her left ear in way of attention; a braid Soraya can often be found undoing and re-doing when her focus slips.
At a glance she appears rather average, there is nothing particularly striking or unusual about her features, perhaps a bit too 'woman' and a bit less 'soldier' than her superiors would like. A second glance however would show more. Soraya was not born to the life she leads, her muscled build still holding the excess of womanhood; soft flesh, curves, hips, breasts.
Her eyes lined with traces of subtle eye-shadow. Her perhaps too-full lips sheened in a soft gloss. Soraya treads the line between woman and soldier.
The Braid
The braid in Soraya's hair is a family tradition. Women of the Skydancer family place the braid in their hair when they come of age. Forgetting to tie the braid is seen as disrespectful and as such, Soraya will always keep it as neat as possible, even when heading to battle.
The Half-Blood?
Some have come to believe that Soraya is half-blooded; a mix of human and elven blood, giving the tell-tale fuller figure she sports. Soraya denies this vehemently, although her own insecurities over the subject have again been brought to the front of her mind. The truth of the matter is unlikely to ever be known.
Personality
Soraya is a woman of two worlds.
On the one hand she is a strictly conditioned soldier. Her recent years within the Blood Knight Order - a member since its founding - have lead her to develop a disciplined, regiment and often cold front. Soraya has little time for those who don't function as she does on the battlefield an her patience is quick to wear thin. She often forgets that most don't receive the training of a Blood Knight, or that they may simply be inexperienced. Many of her own experiences during her time in the lowest ranks of the Order are mirrored upon those who she believes are in need of her help. Harsh words and harsher levels of physical training, or sometimes even punishment are what she believes will develop a good soldier's mind.
However, that isn't to say there is no softer side to her, even on the professional front. Soraya understand deeply that her methods and mannerisms are probably overbearing and difficult to cope with or even relate to with most. As such, when the time is right, she will allow her walls to come down to let the more caring workings of her mind show. She believes, particularly with those she personally takes under her wing, that there is a time for affections and it need not be brought out too soon.
Soraya finds it difficult, even in most social situations, to allow the professional front she's developed to diminish. As a rank-and-file member of the military it was easier for her to be herself during her spare time. However, with rank comes responsibility and she sometimes struggles to find the fine line between letting her hair down and setting the proper example. There are few people who she can truly be herself around.
When all the pretence of Soraya as a soldier is stripped away, there is Soraya as a young woman. She is eager, explorative and predatorily confident in her quest for pleasure. Outside of the military Soraya's life is often one of indulgence. The indulgent streak can stem from something as simple as sleeping in the patch of sun that shines through the window, to heavy drug taking, self destruction and sexual exploration. This side of her life she is careful to keep under wraps as much as possible, knowing all too well it would shed her in a poor light amongst her peers and within the military.

Hobbies and Pastimes
Tinkering: Soraya likes to fiddle with mechanical objects, purely as something to keep her attention locked. The hobby stemmed from needing something to take her mind away from mana withdrawal and she still keeps it up to this day.
Exercise and Combat Drills: Although not the most fun things in most people's minds, it is a rare day when Soraya misses her training. Often up early in the mornings she spends at least an hour on exercises and sword technique.
Gymnastics: Claiming the interest stems from a need to keep her joins from locking up after many hours in heavy armour, Soraya has a vague interest gymnastics. No professional by a long shot, she seems to be more interested in simply keeping her body lithe and flexible than being able to perform any great gymnastic feats.
Scribing: Despite being new to the profession, and reasonably poor at that, Soraya has become deeply interested in inscription and the world surrounding it.
Likes and Dislikes
Likes:

Stories: Although not much of a reader herself, Soraya certainly enjoys being read to. Living with Thracen Valantir, who is deeply interested in a vast range of literature has left an impression on her. She is not deeply set in her interest, and her tastes aren't particularly refined but she enjoys a common tale of good versus evil, romance and drama.
Pleasure: In the broadest sense of the term Soraya enjoys pleasure. She is a thrill-seeker, which may even be one of the reasons she enjoys life on the battlefield. Speed, drug taking, alcohol, risk and sexual experience are just some of the ways she seeks to get a high in life.
Swords: Soraya is proud of every sword she owns, and knows a well crafted blade from a poor one as a simple glance. It is rare for her to have a sword at her hip that hasn't been crafted to her particular specifications such as weight, balance and length.
Dislikes:

Heights: Somewhat at odds with her thrill-seeking undertones, Soraya is terrified of heights. She dislikes flying for this very reason, and feels unsafe on any flying creature that isn't her own trusted mount.
Humans, High Elves and Half-breeds: Being easily led by blood elven propaganda, Soraya's deep seated hatred of humans stems back to the razing of Quel'Thalas. Her experiences with them since have only helped to settle and distinguish her prejudices against her people's former allies. Similarly she despises her high elven kin, believing them treacherous and weak-willed. As a proud creature, the concept of mixed blood sits uneasily with Soraya also, and she looks upon half-elves with scorn for their tainted bloodlines.
Occupation
Soraya as a Blood Knight
Soraya's primary calling in life is that of a Blood Knight, and the path had once taken her to the rank of a Master. As a Master of the Order, Soraya was initially a teacher, training several Knights. She later opted out of the teaching role, and feeling she made little difference to the streets of Silvermoon she requested to utilise her skills on the field of battle.
She remained at the rank of Master for some time, until an unfortunate Alliance capture shed her in distasteful light amongst her peers, and her rank was revoked. Soraya remains in the Order, although her relations with it are somewhat strained. Not wishing for her incident to blemish their image, the Order sent her to the front lines in Northrend within The Sunfire Vanguard.
Soraya as a Warlock
Sometime after her station in The Sunfire Vanguard, Soraya began looking into arcane practice and, more specifically, fel-weaving. It's something she goes to great pains to keep secret, using her position as a Blood Knight to be an excellent cover if anyone sniffs around too deeply. However, she cannot keep up bother her study and her work for the Order forever, and sooner or later the elf will find herself having to choose.
Part of her studies into the arcane have lead her to develop the need to learn to scribe. With a family background in herbalism, she certainly had a head start in the field. This is yet another front for her to place around herself if anyone should become suspicious of her activity.
Within the right company there is no need for pretence, and Soraya is certain that one day she will be able to out all she has learned without fear of reprimand. After all, if she is in control then there is nothing to be wary of, or so she believes.
Demons: Presently, demonic summoning isn't something Soraya has delved into with any great desire. However, she was coaxed (perhaps even tricked) into performing the art:

Rultai - Soraya's imp, the relationship they hold is difficult and hardly typical of a master and servant. If anything, their bind is all that keeps them close to one another as Rultai torments Soraya, and Soraya tries everything she knows to rid herself of the creature.
Mounts and Vehicles
Anastasius
Soraya's Thalassian stallion. Named after the late king Anastarian, Anastasius carries Soraya to war. The steed itself was a gift from Thracen, for her birthday. The mount she had ridden before had always seemed impersonal to her, gifted via the magics of the Blood Knight Order. Anastasius she treats with far more care and affection.
Verlanna
Named after Soraya's mother, Verlanna is a rare breed of white hawkstrider. Usually well looked after in the pens near Thuron's Livery, the bird is rarely ridden. Soraya keeps Verlanna only for casual occasions, when she is outside a suit of armour. Despite not travelling on the hawkstrider much, she has great affection for the animal and tries to visit her as often as she can.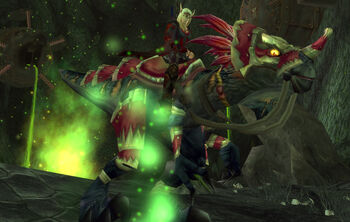 Ran'zil
Ran'zil is a riding raptor Soraya acquired during the Zangarmarsh push of the Vanguard's Outland Campaign. Without her horse to take her across the boggy marshlands, she was gifted the mount of a fallen outrunner. Ran'zil has little love for his new master, despite her completing the rights to take ownership of the scaled beast. He is often unruly and it takes all of Soraya's might to restrain the beast from snapping at her fellows in the regiment. Nevertheless, he is a fast and well paced runner, and serves her well getting around the broken world of Draenor.
Skydancer
Rather unimaginatively named, Skydancer is Soraya's dragonhawk. The beast takes her wherever she wishes across the skies.
Mechano-hog
When Soraya had a little more money to her name, she commissioned goblin engineers who aid her in constructing a machano-hog. Now one of her largest sources of debt, with its upkeep costs and never-ending need for a phislogen fuel supply, Soraya still loves her mechano-hog dearly. She claims it is a part of herself - she built it with sweat, blood and tears and the freedom she feels when riding upon it is unrivalled. It is one of Soraya's largest regrets that she has such little time to use her mechanical mount. Even getting it somewhere suitable to ride is a hassle as she would never dream of churning the grass of Quel'Thalas with such a noisy, unruly machine.
Important Relationships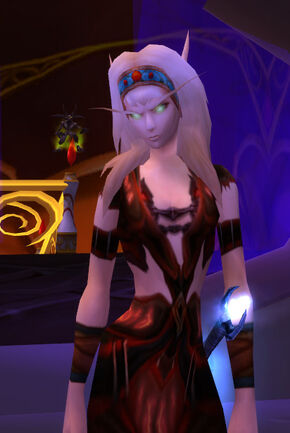 Soraya and Thracen are lovers of some months, although the relationship is often strained by the trials and tribulations of a soldier's life conflicting with the simpler pleasures of 'just living'. Having met in Northrend and bonded closely during their campaigns together, the pair suffered their fair share of 'will they?/won't they?' awkward moments amongst their peers.
Soraya, who is unused to be looked after, often puts herself before Thracen claiming that she is doing what she does for him - that she is a soldier to keep the people she cares for safe. Although understanding, Thracen often feels that he doesn't need her to look over his shoulder. In actual truth, the couple probably need each other in equal parts, although neither would like to admit it.
Although rocky at times, their relationship has deep foundations and they will often work hard for one another to be happy regardless of personal consequence. It is Soraya's wish that one day, when the fighting is over, she can hang up her boots and live peacefully with her partner.
Jianna Valantir
Jianna is Thracen 's five year-old daughter. She is only able to visit her father once or twice a month, and sees Soraya even less. Nevertheless the young girl has developed a rapore for her would-be mother. Soraya, reported to Jianna through letter as 'the princess' during the Northrend campaign has difficulty handling children, and it is no exception here. The two get on amiably, but Soraya often worries that she can't provide what a child needs and, more importantly, that she isn't the mother material Jianna seems to embellish upon her.
Due to the close bonds Soraya has made with both Jianna and her father, the girl's actual mother does not take kindly to Thracen's new lover.
Personal History
Soraya was born the only child of a middle class family within what is now considered to be the Ruins of Silvermoon. The Dwin'urdrenns ran a small but prosperous herbal medicine and potions store, nestled within the busy streets of the city. Life for Soraya was as normal as any high elf, and like the rest of her kin she inevitably suffered at the hands of Arthas.
Alone, picking herbs for her father, Soraya was cut off from her family as the Scourge attacked. Managing to hide herself against a large tree trunk, she stayed undetected throughout the invasion, too petrified to move. After the fighting was over, there was little sign of what had happened to her family.
The weeks after the destruction of the Sunwell took their toll on the lonely girl. She became increasingly aware how dependant she was on its power, and resorted to increasingly disturbing methods to get her hands on anything that could give her a fix. Eventually, after some long, hard months, news spread of a strange new power gifted by the Prince from his quest to Outland. Upon further investigation, she haphazardly enlisted into a new order that would exploit this gift. Unbeknownst to her, this decision would change her life forever.
Recent History
Important events that have happened in game that will not fit into other sections will be placed here, labled by date.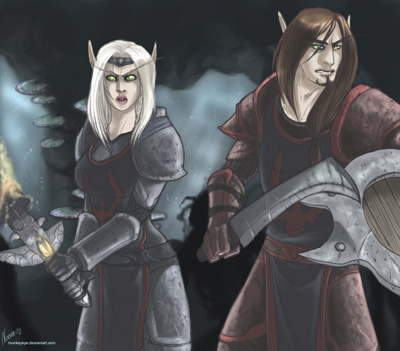 July, year 29 - August, year 29.
Ongoing plot - Descent.
Soraya has fallen to the allure of dark magic. The prologue to this roleplay can be found here. However, the story contains adult content from the beginning. Follow the link at your own discretion.
Stories about Soraya
Extended Background:

The Skydancer Chronicle: (Revised background, (Work in Progress))
Gallery
Some Commissions of Soraya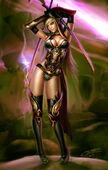 Soraya in the Netherstorm. The first commission I had done of Soraya by the very talented
Shiramune.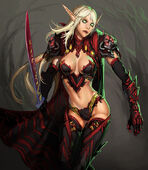 Soraya shows off how negative armour value works! This one was for my birthday. Drawn for me by
Ionen.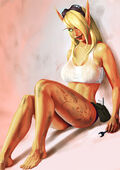 Soraya uh... working hard by the forge. Pin-up drawn about two years back by
TsunamiXD.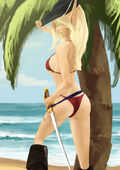 Soraya totally being a bikini-pirate. Summer-themed commission last year by
Fritzk.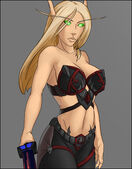 Soraya in training leathers. Drawn for me by
Fritzk.
Miscellaneous Notes
Her surname originally from this naming table, back when I was an RP noobie and couldn't think for myself, hence it is DnD like. Even so, it's grown on me and won't be changing. Under Table 4, "Dwin'" would mean "walkers in" and under Table 5 "urdrenn" would mean "the light". Whereas this isn't remotely true for the WoW universe, given my character's complete scorn for the Light it gave me a nice little in-joke and a chuckle.
I have given "Dwin'urdrenn" a common translation as 'Skydancer', picking two words that, to my knowledge, have no actual official translation in game. Nowadays 'Skydancer' tends to be the variation of the name I go with in RP and my flag addon.