This page is Archived.
If you disagree with this Archive, please explain why at the comments below.
Archived Pages are pages that:
Are outdated or unused.
"Belong" to players who are inactive or have left the realm.
Are well-crafted and can serve as an example for others
Contain good content.
Archived pages are not likely to be updated anymore and serve as a backlog of our realm's past.

---
Sorienna Archrion
Edit
Pronouced: Soree-ennah Ark-Ree-On
Nickname: Sori, Tink, Little Naaru
Blood Knight Adept. Mistress of Invention
Description
Edit
Age: 25
Race: Sin'dorei
Eyes: Fiery Green
Height: 5'10" (177.8cms)
Weight: 12st 7lbs (79.4kg)
General Description:

Sorienna has old burns and scars all over her face and body. She has a lithe but slightly brawny build. Her body shape is more suited to an athletic male than a young female. She seems quite flat chested, her shoulders are broad and her waist narrow. She has a boyish round face which has a generous scattering of red freckles. Her lips are small but round with a natural red flush to them. She never wears make up or colour on her skin. The ends of her copper red hair are usually singed and cut unevenly. Her normal speaking voice is quite low and soft, however when she becomes excitable it rises in pitch and volume.
She wears armour that is clean but not shining. She has a utility belt which has various canisters and gadgets attached to it. She wears a chain mail jerkin and leggings underneath the plate, then a full leather set under that. Under her helm she wears a an open faced leather cowl. Lastly under the leather she wears black cloth tunic and leggings. She never wears, nor has need for a bra. She wears odd coloured studs in her ears. The left is green and the right purple. A closer inspection of them will reveal that they are scrygems and worn only for their practical purpose.
Distinguishing features:
Sorienna has a large scar on the left of her neck and a scar slashed across the back of her neck. There is a scar from a puncture wound on her left side. She has a feint scar on her left cheek just under her eye. There is an old but deep C shaped scar on her right thigh. She is also scarred on across her back with a large faded slash running diagonally down from left to right.
Magiks and such:
More often than not Sori maintains her retribution aura. In times of high stress she will shift this to provide herself with some protection from fire. Those attuned to such things may sense her affinity to the magiks of the light as well as the underlying and suppressed pyromancing skills. A fading echo of arcane ability remains.
Background
Edit
Youngest daughter of the nefarious Geis Archrion and esoteric Achaia Cala'elen. The only Archrion known to have stayed good and sane so far. Sorienna has spent most of her life growing up on a remote island in relative peace. She grew up believing that her father worked hard for the greater good of Azeroth and felt deeply disillusioned when she learned for herself what sort of elf he really is. She has spent several years in hiding, running and fighting from the troubles her family and questionable friends have caused, whilst trying in vain to become a magister at the Spire. Following a serious injury acquired during the Scourge attack on Ogrimmar she took it upon herself to train as a Blood Knight. Her first regiment assignment was to a unit whose reputation is notorious throughout Quel'thalas. She has recently been recalled to Silvermoon to continue her adept training.

Archrion Pyrolabs (Now Destroyed)
Sori owns a small workshop in Orgrimmar. She runs it with a goblin, Zheliox Frazzlecrank and his large assistant. They can often be seen delivering crates and supplies to Sori wherever she is stationed.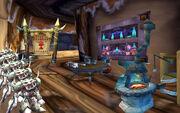 Family And Friends
Edit
Geis Archrion - Father
Achaia Cala'elen - Mother - Deceased
Zoah Archrion - Twin Brother
Xai Archrion - Older half sister
Kyoto Archrion Older half brother
Ignison Cala'elen - Uncle
Atelic Lyon - Childhood friend
Criminal Record
Edit
None, Sori is a good girl!
Theme Song and Quotes
Edit
For the greater good!
Björk, It's Oh So Quiet
Ad blocker interference detected!
Wikia is a free-to-use site that makes money from advertising. We have a modified experience for viewers using ad blockers

Wikia is not accessible if you've made further modifications. Remove the custom ad blocker rule(s) and the page will load as expected.