((The Swamprat Mercenaries are a small, light RP, PVE focused guild.))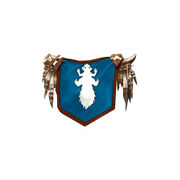 Captain Hiraun
Description
Edit
The Swamprat Mercenaries are a group formed after the second opening of the dark portal and the huge influx of Horde members into the Outland. Their seat of operations at Swamprat outpost was made so that they could easily reach any part of outland in a blink. The headquarter is still in Swamprat post but the mercenaries also operate in Azeroth, Northrend and Pandaria.

The mercenaries can be hired, for the fixed price of 1 gold bar per day, as well as all the accomodation/allimentation costs. In case of really dangerous missions the price will be higher.
Recruitment
Edit
The Swamprat Mercenaries are always in search of new, fresh mercenaries that wants to be a part of the team. Seek out one of the leaders if you are interested in joining the ranks.
((We take great care in selecting the right people to join us. Harmony in guild-chat and fun ingame are the top priorities))
Ad blocker interference detected!
Wikia is a free-to-use site that makes money from advertising. We have a modified experience for viewers using ad blockers

Wikia is not accessible if you've made further modifications. Remove the custom ad blocker rule(s) and the page will load as expected.