Friday Night Storytelling
Edit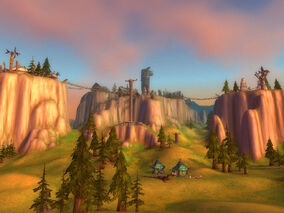 Every Friday at 8pm, an hour before the fire is lit, folk gather on the high rise near Baine Bloodhoof's hut to rest their bones and hear stories and songs. The storytelling is somewhat of a tradition to the Horde, and has been going on for quite some time.
A blade of grass rustled, setting her heart into a flutter again. Surely everyone within four miles must hear the frantic pounding of her feline heart! Breath... breath... creep forward... stop. Why? Curiousity hardly seems like a worthy answer, but isn't that always the response? Curiousity. This damnable cat form. Tocho always said it went too deep for me. But here she was, way beyond where she should be with all avenue of escape cut off. How long could she avoid the patrols of Scourge before she made a mistake?
From "Maralah's Story" (http://berkanaisageek.blogspot.com) © 2005-2011 Ruth Martens. Used with permission.