This page is Archived.
If you disagree with this Archive, please explain why at the comments below.
Archived Pages are pages that:
Are outdated or unused.
"Belong" to players who are inactive or have left the realm.
Are well-crafted and can serve as an example for others
Contain good content.
Archived pages are not likely to be updated anymore and serve as a backlog of our realm's past.

---
When it comes to mastering the art of sorcery, most blood elves possess great self-discipline and arcane control. Varath is not one of these elves. Many Sin'dorei sorcerers train their magical gifts with patient care and turn their powers towards the defence of Quel'thalas. Varath is not one of these, either.

He doesn't even like to spend time with those people.

Sometimes they annoy him with their pretension or their rigid codes of honour. Sometimes they just make him feel guilty.
He lives life as a wandering bard, professing interest in three things and three things alone – to see all the world can offer; to find the one great tale of heroism that he can turn into a saga that will endure forever; and, infinitely more simply, to make himself rich beyond the dreams of even the most imaginative mortals.
Money is an issue dear to Varath's heart, because it too rarely lands in his palms. It's not that he's a terrible bard. Far from it. When he chooses, he can be charming and witty, his singing voice is soft, lilting and measured, and he can play the lute, the harp and the flute with a great deal of skill, passion and flair. If he devoted more time to his musical talents, he would be a master by now.
But his time is directed down... other avenues.
Relics & Sorcery
Edit

Varath is a keen historian, though his studies usually involve ghosting into demon-haunted ruins more often than hours of study in the libraries of Silvermoon. Recently, he has fixed his interest upon the life (and unlife) of the Essence warlord, Monor 'Argendor' Felnor - a sadistic cult leader well-known for his barbarism and the instability he brought to the cities of both the Alliance and the Horde. During his research into the fallen Essence organisation, he came across the executed warlord's skull, which he claimed "for research purposes". Currently, the skull is mounted onto a staff of black wood and carved bone, known as Felnor's Lament.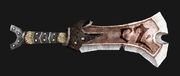 He also carries a trollish blade, marked with Zandali runes depicting a legacy of bloody deeds by a champion named Gor'Goruush of the Sandfury Tribe. Varath claimed the relic blade as a spoil of war and an antique of interest, after killing the troll warrior through underhanded use of sorcery. The blade's name is Virukh'saar in Zandali, translating loosely to Orcish as "Soul Hunter".
Varath is an able swordsman, but he more often uses his unreliable grasp of magic to survive the dangerous situations he puts himself into. He possesses an innate gift for sorcery without any of the discipline or patience required to master the power of the Twisting Nether. Instead he turns his gifts to darker ends that suit his wild, unrestrained talent: binding demonic creatures to his will, and manipulating Fel energies to suit his ends.
While he keeps impressive-looking volumes of notes and incantations based on his research, anyone paging through these leather-bound tomes is likely to find them half-full of sketches of ancient ruins he's explored, distant lands he's visited, and beautiful women he's met. Varath knows he's arrogant and relies on luck more often than dedication, but his raw talent and power has carried him this far without any real effort - and it's worked out just fine, thanks.
Well. Mostly.
Personality & Curses
Edit
For all his faults, which are indeed many and varied, he possesses two qualities that he fiercely clings to, as if these will make up for everything else.
Firstly, he prides himself on being (almost...) unfailingly honest. Life on the road with mercenaries and vagabonds for company has bred a certain level of trust within him when it comes to finding himself side by side with strangers in unforeseen circumstances. He tends to automatically assume the best in people, and rarely lies without excellent cause.
Secondly, his wandering nature and lack of familial ties conceal a deep-set sense of responsibility. Varath is a firm believer in atoning for the errors of the past. Two mistakes mark his current existence – two failures to control his wild talent for sorcery.
The Searing Curse
The first was the catastrophic failure that marked the end of his training as a mage. He likes to tell people he abandoned the path of the magus with the announcement: "I'm bored. This is boring," before turning to his darker pursuits in search of success. This is not a lie (as he did indeed utter those words many times during his apprenticeship), but it's not the whole truth. While trying to combine Fel flame with purer arcane fire drawn from the Twisting Nether, he suffered a backlash of sorcery that seared his hands.
A minor curse lives on in his hands now, preventing the pale burn scars from fully healing. When he overexerts himself and taxes his body by intense use of magic, his scarred palms will sometimes split and bleed afresh, which explains why his hands are occasionally bandaged when not covered by his usual fingerless gloves.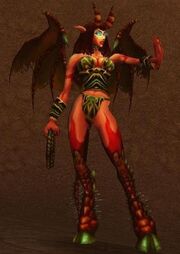 Sharlissa the Unbound
Always both ambitious and impatient, Varath's first demonic summoning did not go entirely as planned. Those of his friends that know of this incident regard it as the very definition of his habit to leap before he looks.
His first summoning and binding worked too well. With painstaking research and a supreme effort of willpower, he reached into the Twisting Nether and shackled a sayaad to his will, to serve as a succubus. The creature's name was Sharlissa.
Sharlissa, many times more powerful than most succubi, was always resistant to Varath's control. Despite his gift and the honing of his talent, she would frequently disobey his orders and either vanish back into the hell realm that birthed her, or flee to an enclave of lesser demons somewhere on Azeroth.
Such flight necessitated lengthy resummons and, on several occasions, open battles between the two of them as master and slave fought over just who possessed which title. Varath lost only one of these fights, but once was all that mattered. Sharlissa destroyed his research scrolls and the incantations necessary for binding her, and vanished, either believing her former master to be slain or simply not caring if he still drew breath. Dead or alive, he was no longer a threat.
Sharlissa the Unbound – as she now titles herself – is the driving force behind Varath's wandering lifestyle. He hunts her now, always chasing rumours of her manifestations on Azeroth and seeking to repair the chaos she inevitably leaves in her wake. As yet, he has been unable to hunt her down, but presses on through a storm of conflicting reports and unreliable rumours.
Appearance
Edit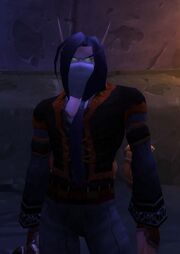 Varath travels a great deal, and it shows. His pale skin, milk-white and faintly blue-veined, is often marked by patches of sunburn. When journeying across Kalimdor, he will usually cover most of his face with a cloth mask that shows the dust of the road as surely as his clothing. It amuses him when people assume the mask is to hide his features. The truth is a little more embarrassing - his pale skin burns easily under the Kalimdorian sun, and the mask is always worn to either keep travel-dust out of his face, or hide his patchy sunburn. As for the clothes themselves, they are of common weave, sturdy for travel, and always showing signs of recent mending. Occasionally, he can be seen in his tattered Stone Guard's tabard, which he often wears when within the walls of Orgrimmar.
At his left hip is the trollish blade Virukh'saar. On his back is a stuffed backpack, with scroll tubes, a lute, a small harp and the bonecrafted staff, Felnor's Lament, all fastened securely. The staff's skull top is forever locked in a silent scream, leering over Varath's shoulder. Occasionally, when exceptionally bored on the road, he'll talk to it. Thankfully, it hasn't answered so far.
Varath has an easy, casual grace to his movements, but loses all traces of it in battle. When his blood is up, Varath fights with open, desperate fury, relying on rage and instinct to carry him through fights where skill should suffice. If he had the skills, he'd likely use them. Since he doesn't, he works with what he has: a tremendous sense of self-preservation.
Like many bards, he is handsome and finely featured, with a rich, melodious voice. None of these aspects are in evidence when he is swearing in his poor grasp of Zandali or Gutterspeak, and covered in the dust and blood he seems to pick up wherever he travels.
Allies and Minions
Edit
Varath's associates are an eclectic mix of warriors, wanderers and adventurers. They are frequently scattered across Azeroth, and their paths cross only when they embark on a shared journey.

Seerstone Telepathy
All of his friends and demonic minions carry a seerstone - a specially soulcrafted gem based along the same principles as a spellstone, firestone or soulstone. A captured soul is stored in a soul shard as normal. The shard is then shaped with a minor spell into a pearl-like gem, which allows whomever holds it to contact Varath telepathically, over any distance. As with most of Varath's ventures into the Dark Arts, seerstones are occasionally flawed. When used, they will sometimes emit painful psychic shrieks within the bearer's mind - perhaps the final screams of those whose souls were stolen to make the gems, or merely a moment of pure chaos drawn from the Twisting Nether.
Varath has known Alyx for years, due to the close ties between the Sindarion and A'lorai families. A prophecy (largely ignored by Varath) spoke of the two bloodlines coming together to usher in a new age of prosperity and glory for both lineages. To this end, before the Third War and the Fall of Quel'thalas, Varath and Alyxandria were manouevred into an arranged marriage. With their families slain in the war, both Varath and Alyx have gratefully abandoned such an arrangement.
The two of them occasionally travel together, usually with Varath waiting for the crusading knight to do something heroic so he can write a great song or poem about it. He remains disappointed, so far, with little interest in her endless battles with the rank and file Scourge. From time to time, he will act as her herald, announcing her in the presence of other knights and speaking of her greatest deeds, whether they happened or not. This is usually done to annoy her.
Airina, a sin'dorei raised for several years among the Tauren, is one of Varath's preferred Kalimdor guides. She is inexperienced herself, being very young, but always ruthlessly competent at pointing out the flaws in whatever tomb-robbing misadventure the pair find themselves in.
Reshka, the daughter of an orcish hero, is Varath's other Kalimdor guide. She is a warrior-born, with the ultimate ambition of crossing the Dark Portal and returning with her father's bones to bury them in Azerothian soil. Varath relies on her experience in the lands of Kalimdor, but has a much greater interest in her ambitious quest, which he believes will make an excellent saga-poem or song. She is also a noted fistfighting champion, and more often than not, responsible for the bruises on Varath's face.
His sister-in-law, the widow of Varath's brother Kaevan Sindarion. Varath has a complicated relationship with his brother's widow. For years, he harboured a secret desire for her; she was the one thing in his irritatingly heroic brother's life that he actually envied. Guilt and loneliness since the last war seem to have eroded her sanity, and Varath is trying to work out in his own mind just what exists between them now they've found one another after six years of presuming the other was slain.
Azham the Loquacious, Princeling of the Merciless Flame
Of all Varath's demonic 'accomplices', none is as annoying (and as rarely summoned) as Azham. The imp insists on naming itself with a number of grandiose titles that frequently change from night to night, and if it was merely irritating, then that alone would be enough for Varath to scarcely call upon the little bastard.
Unfortunately, Azham is not only endlessly talkative and occasionally perverse, he is also intensely vicious. While some might find the demon's habit of looking up maiden's dresses amusing, very few people laugh when he eats the eyes of the beasts Varath kills, or cuts Eredun runes into the flesh of housecats with his wicked fingernail claws.
Recently, Azham's depraved attentions have drawn the reluctantly amused attentions of Varath's friends. He killed two cats in order to make a necklace for Airina Hawkblossom ("Me make cat-cats sleep. Crack white bones. Make pretty-pretty.") and has developed an obsession with Aurelya Sindarion's expensive earrings ("Female. You. Pick-pick me up. Carry Azham. Me not bite-bite this time."). The Tauren Ornvyth has a notorious dislike for the imp, and has stomped it back ito the Nether quite publically before. Varath doesn't mind at all. He rather enjoys the peace and quiet.
Haththyk is the singleminded darkness-born voidwalker Varath occasionally summons to do his bidding. The creature is slow-witted and dull, only lukewarm in its hatred for its master, but soulbound to be unfailingly loyal. From time to time, Haththyk will generate a ponderous idea from the depths of its cold brain, hoping to earn its freedom by inspiring more than merely loyal service. It seems to hope it will be freed if its master respects its intelligence. However, these ideas have to date been entirely based around violence, which is what the demon is summoned for, anyway.
A Felhunter, almost devoid of personality. Some warlocks seem to treat these demons as loyal hounds. The last time anyone tried that with Traazhem, they almost lost their hand to its snapping, slime-slick jaws.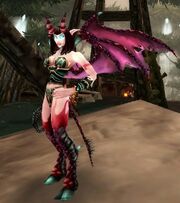 Varath and Annys ("Lady Annys", she insists) are not exactly friends, though they spend a great deal of time together. She is his second succubus, summoned after Sharlissa the Unbound escaped for the final time. Annys is like many of her kind: hot-tempered, driven by lust, wickedly violent and almost fanatically vain. The warlock and his favoured minion share one thing in common above all else: they both hate Sharlissa.
Annys has implied on several occasions that she is related, through whatever demonic bonds apply, to Varath's first succubus. Whatever the truth of the matter, she despises Sharlissa with a passion just as fierce as her master's.
Their alliance is volatile, and on more than one occasion they have come to blows. However, Annys and Varath spend most of their time together - admittedly, arguing and teasing one another - and there is mutual respect beneath their insults and taunts. Annys sincerely believes all men who gaze upon her must undoubtedly desire her, leading her to being even more arrogant and vocal about it than Azham. She is also deeply opinionated on almost any situation the pair find themselves in, which has saved Varath's life on countless occasions.
Guild: <Wanderer>
Edit
The guild, Wanderer, is a gathering of Varath's various friends and allies. It's not a formal guild, merely a relevent 'title' to put under their names and share some IC and OOC channels.
The IC channel is used for telepathic contact through seerstones, with Varath's demons occasionally joining in the discussions.
Reputation & the "Firefist" Title
Edit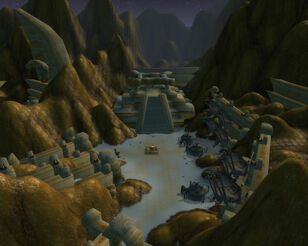 To the orcs of Durotar (those few that have seen him), Varath is known as an elven bard and an occasional mercenary that serves in Warsong Gulch. To the scions of Silvermoon that are aware the vagabond son of the Sindarion bloodline still lives, he is a failure and a harmless slacker. Both of these are, in their own way, perfectly true. Varath denies none of it.
And yet, to the Sandfury Tribe of Zul'Farrak, locked within the ancient walls of their desert temple-city, he is a dangerous rogue element. Reports of an elf repeatedly coming into their lands started several months ago, back when Varath's only intention was to take tracings of the hundreds of lore-rich stone tablets within the desert city. The mysteries of the place appealed to him, and he has spent many weeks camped in the southern deserts, infiltrating the city to find, learn (and steal...) whatever achaeological knowledge and relics worth leaving with.
The fact he was caught so many times on his infiltrations led the sorcerer to start slaying the trolls that found him. Soon enough, his reputation grew among the Sandfury Tribe - the trolls quickly growing to hate the elf that stalked their sacred city, seeing their secrets, stealing their artifacts, and slaying their kin. He became known as Firefist, not as a title of his skill or power, but in mockery of the burn scars that mark his hands.
Personal Notes
Edit
It's not big and it's not clever, but Varath's character and attitude was mostly dreamed up while listening to these two songs:
The top image of Varath and Annys was done for me by Ron Spencer, of White Wolf / Magic: the Gathering / WoW: Trading Card Game fame. (Currently, just the initial sketch while he finishes it). Links to his info and work can be found here:
Gallery
Ad blocker interference detected!
Wikia is a free-to-use site that makes money from advertising. We have a modified experience for viewers using ad blockers

Wikia is not accessible if you've made further modifications. Remove the custom ad blocker rule(s) and the page will load as expected.