This page is Archived.
If you disagree with this Archive, please explain why at the comments below.
Archived Pages are pages that:
Are outdated or unused.
"Belong" to players who are inactive or have left the realm.
Are well-crafted and can serve as an example for others
Contain good content.
Archived pages are not likely to be updated anymore and serve as a backlog of our realm's past.

---
Verdure Whitecloud

Verdure
Vital statistics
Names
Verdure, Verdauga, Irenaeus, Kii'pa, Lord of The Thousand Eyes
Class
Druid of the Wild (Balance / Restoration)
Race
Tauren
Faction
Cenarion Circle, Horde
Occuptation
Cenarion Circle emissary in Northrend
Status
Dead
Character lifeline
2.1.3 - 3.3
Verdure Whitecloud was a dedicated member of the Cenarion Circle and founder of The Thousand Eyes. Although he faced much controversy in the past, he upheld a great dedication to the tribal ways of the Horde, and did much for the Druids, Kalimdor and the Taunka in later years.
Verdure is probably best remembered for his founding of the Eyes and his corruption by Yogg-Saron which led to the self-destruction of himself and his guild. He is seen as the patriarch of the Eyes of Kalimdor and is looked upon both negatively and positively by those who knew him and survive him as the Eyes.
Verdure Verdauga Whitecloud the 4th. Verdure's name means "green vegetation, grass or freshness in general; flourishing condition; vigor". He was born Kii'pa but given the name Verdauga when he came of age. He shed the name Verdauga to Verdure in order to symbolicly shed all wickedness and start again as a new Tauren Druid bereft of corruption. His new name which has a meaning of freshness, represents his fresh start.
Verdure is a distinctive white pelted Tauren with yellow eyes that can change colour depending upon his mood. His horns are black naturally but he dyes them white on occasion to enhance his snow like look. He is fatter then most Tauren with a rather rotund belly and a round face. His mane is a brown colour with a hint of red because he dyes it and he wears it in braids. His nails are long and untended, black and blunt at the ends. The pelt of Verdure sometimes seems to glow or shimmer, and even though he stands out he is not the most flattering person to look upon.
Race and Class
Edit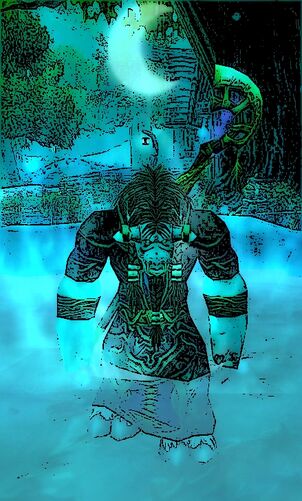 Shu'halo (Tauren) Druid of the Wild.
Orginally Verdauga's elders had planned for him to start training as a Shaman. He never began his Shaman training and after the death of his brother he was trained as a Druid. He studied as a Druid with a Tauren called Gar Greycloud, the two became rivals and the rivalry was perceived as friendly by Gar but for Verdauga it was an angry rivalry. Gar was his sole fellow student and they were taught in the days when Druidism had begun to creep back into Tauren society. Among their teachers were Naralex and Hamuul Runetotem. Verd began his time as a Druid as a Druid of the Claw but as his skills and knowledge grew he became a Druid of the Wild, a versitile Druid taking on many different powers and forms and even mastering mythical shapes.
Verdure draws power from Mu'sha (the Moon, also called Elune by the Night Elves) to smite foes with "divine" arcane magic. It is interesting to note that this is a very different kind of arcane magic, always coming from above instead of from the caster, it is a blessed and celestial form of arcane magic and is thought to be taken from the lunar power of the moon. Verdure takes the form of the Moonkin, drawing from its wisdom and strength. Perfecting the form of the Moonkin can take years. Verdure uses the powers of nature, from summoning treants and insects to bringing up roots through the ground. Verdure is a fierce fighter, often "hooting" (something he can not help in Moonkin form) loudly at his enemies.
Fighting Style
Verdure has a strong connection with the stars and reveres the night and is seen more often after dusk then during daylight, making him somewhat nocturnal. Verdure has to "recharge" his powers as he draws energy from the moon and stars, those powers only remaining in his body for a few days depending on how long he has charged himself for. He fights with Starfall and can even control some elements, those being wind and water. He uses the power of wind and water to summon powerful storms and typhoons. He has three treants that he summons from the emerald dream, Goldeebark, Twiggy and Fableleaf. The treants can only remain in the world for a certain amount of time before they "die". Though they only appear to die they can be summoned again after a certain amount of time.
Views and Religion
Edit
Verdure as a Tauren has a firm belief in the Earthmother and holds her in great respect, he also has much respect for the ancestors believing them to be almost perfect in whatever actions they took in the past for it has led to the benefits and priviliges of today. As a Druid he also worhsips Cenarius and Ysera. Verdure is extremely conservative, he does not like change and anything unnatural like Demonism and Undeadism. He will do whatever it takes to uphold his old fashioned, traditional beliefs which in some cases are taken to the extreme and lead to unpleasant actions. Verdure could be compared to Malyogs in that he is not evil, albeit perhaps mad he will do whatever it takes to carry out in his mind what are righteous deeds to maintain order or control. His beliefs range from reasonable beliefs to beliefs that stem from sense and reason but develop into something completely unreasonable. He dislikes many races and has unsavoury nicknames for some of them. He calls the Blood Elves "Tainted ones", the Orcs "Cenarius killers", the Draenei "Demon cousins" and the Forsaken he calls "Dreadlings". Unlike others he does not really refer to Humans or Dwarves as "Pinkies", he does not really acknowledge the former but has called the latter "Earth killers" at times. He holds a deep respect for Night Elves although on occasion he will blame them for Demons on Azeroth. Verdure is known to have a fetish for Troll's feet.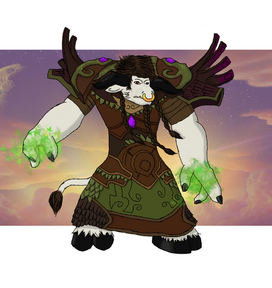 Occupation
Edit
Verdure would call himself a weaver and an enchanter, although this was not always the case. He was once a potion brewer and a botanist but when he set out on his path as a Druid of the Wild he felt urged to draw the magical essences from items and use them in enchantments, it is also a profession seldom practised within the Shu'Halo so it intrigued him. The reason for him becoming a weaver is widely known to be that he is fond of robes and tapestries, as he is always dressed well at public events be it in tribal robes or Druidic cloth. Verdauga tries also his hand at poetry and stories, which he stores in his head. From his herbalist days he is also a keen smoker, able to choose the best herbs to smoke and use for cooking also.
Verdure is from the Whitecloud tribe and is a distant descendant of Chief Ulbaz Whitecloud. He had two sons who all died before him. His mate Snowsinger went missing at sea and is presumed dead. Verdure has only one living descendant, a daughter whom he had with a Warden of Moonglade. Little is known about her as she was neglected by Verdure since birth because the Druid only ever wanted a son to ensure his bloodline continued which he always felt very strongly about. Some of the other known Whiteclouds are Skorn, Skarauga, Auriauga and Tootles .
Before the war in Northrend
Edit
Verdure Whitecloud was born in the Stonetalon Mountains to Skorn and Mariel Whitecloud where he lived peacefully for many years alongside the Blackclouds, the brother Tribe of the Whiteclouds. Both Tribes had strict mating policies, to preserve their pelts they could only mate with other white pelted Tauren (in the case of the Whiteclouds who would usually breed with Winterhoofs or other non related Whiteclouds) and black Tauren (for the Blackclouds who mated with Grimtotem).
One day a Blackcloud mated with a Whitecloud and war between the two tribes struck out. The Grimtotems took advantage of this and aided the Blackclouds. The Whitecloud Tribe was driven from their camp by lake Mirkfallon and made their way down the mountain and made the camp Aparaje where they lived for several years without being bothered as it was close to the Barrens and wasn't as a desireable place for the Blackclouds to live who had the higher, nourished ground. During these years the Blackclouds Tribe faded out of the word and merged into the Grimtotems, and one night when Verdauga was reaching Bullhood they attacked Aparaje killing and burning everything, Verdauga's younger brother was lost in this attack, persumed dead for many years. It is unknown why they came down the mountains but theories suggest that the Wyvern population had grown too big (this was the time before the Horde had come and made Wyvern their flying mounts) and they were being given trouble by the Harpies so were driven down.
The Whitecloud Tribe, like many others, became nomads wandering the Barrens and never staying in one place for too long. Verdauga's mother was killed in a Kodo riding accident around this period. They came across other Tauren Tribes who had been driven from their homes by Centaur (Including the Bloodhoof Tribe) many Whiteclouds got lost or left the Tribe, which is why they are so scattered today. The last settlement the Whitecloud Tribe made along with other Tribes they had travelled and settled with was a place later known as Taurajo. It was around this time the Horde was formed and after years of wandering (Verdauga now being an adult Tauren) they came to the lush green lands of Mulgore. The same year though Verdauga's older brother Murazor died in Ashenvale and the role of Druid fell upon Verdauga.
He formed his own Guild after his sharp tounge had gotten him in trouble with other Guilds he was in and he noticed that there was nobody keeping young Tauren remembering the Tribal ways they were born into. Verdauga was born 162 years after the
War of the Three Hammers
and is 97 years old (104 in dream years, he went to the emerald dream for 7 years although only 7 days passed in Azeroth) Both his children are deceased. He worked in Outland for the Cenarion Circle during the time of the burning crusade.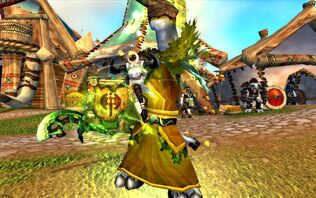 Efforts in Northrend
Edit
As with Outland, Verdauga was sent by the Cenarion Circle to research new plant and animal life, and always aid the ailing parts of the land. Verdauga landed in Borean Tundra and mainly helped the Taunka and the Druids there. The Taunka became his top priority in Northrend and he travelled across the land eagerly and earnestly helping them, he even took it upon himself to learn their language - which is not too dissimilar to Taur-ahe.
However Verdauga like many others in Northrend soon fell victim to whispers from Yogg-Saron. He only became vulverable to the whispers after discarding an old blade owned by his uncle Skarauga. The Old God had already corrupted many powerful beings and wanted to control Verdauga as he sought to extend his influence south into Kalimdor and used Verdauga as his emissary. Signs of Verdauga's descent into madness are evident toward the end of his Cenarion Research Journal III.
Whitecloud whispered tells the tale.
Verdauga became corrupted by the Yogg-Saron and briefly converted The Thousand Eyes into a cult following the Old God. But the members of the Eyes, strong of mind, resilient and far from the whispers of the Old God, abandoned Verdauga and without any followers or believers Verdauga's mission failed and he was left shattered and useless to Yogg-Saron. The self-sacrifice of Possum Fenhide ultimately freed Verdauga from his madness, the corruption however left its mark on Whitecloud and his smooth, youthful face was drained and worn while his red eyes diluted to yellow.
The fall of Verdauga
Edit
There was peace for several months after the events that had unfolded with the Death God, but Verdauga's mind was still troubled. His erratic and unpredictable leadership and behaviour led to his Eyes splitting from him and forming The Opened Eyes. The Eyes were shattered and Verdauga was old, drained and unfit for leadership. He changed his name to Verdure to start a fresh beginning and left the Eyes to aid Horde troops in Northrend, a tribal leader no more. The Wildlord was gone yet a future remained for Verdure.
Verdure wandered the world and with each passing day he had become less like Verdauga and more of a calm and thoughtful elder. No longer violent, mad and unpredictable, Verdure had become an Arch Druid which the Cenarion Circle have come to accept through his redemption. There would always be aspects of Verdauga in Verdure though as after all they are the same physical body.
Life without the Eyes and death
Edit
After the events that occured with the Eyes, Verdure was left alone to his own devices. He lived as a hermit in Northrend for several months and during that time became thoughtful and benevolent. With no friends and not much worth living for since his corruption, Verdure threw himself into danger and the war in the north as a mercenary helping Horde troops. Free from any role of responsability now he had left the Eyes, the Druid could devote more time to aiding the Cenarion Circle. He worked alongside the Argent Crusade preparing for the assault on Icecrown Citadel, and was assigned to lead the Cenarion Druids in the march against the Citadel.
The night before the Ashen Verdict broke down the gates to the Citadel Verdure gathered with many friends for a feast. He did not know if he would see all of them again now that the final battle was at hand. All his friends were there and together they ate and drank and forgot about the impending toil. At three o' clock in the morning Verdure was scheduled to aid in the battering down of the Citadel doors. The Druid used the strength of his bear form to help the Ashen Verdict with the battering ram.
Verdure was among the first groups to enter the citadel, but many undead swarmed out of the gates. The Ashen Verdict needed to get a foothold inside so the group fought its way through trying to reach where Light's Hammer would be. Overwhelmed in the narrow corridor, Verdure's group was pushed back and the Druid was struck by a Scourge blade from the flailing crowds. Verdure was quicker seen to by the Druids once everyone was outside, the undead hordes rushing out into the outside were dealt with swiftly by Paladins.
What happened next decided Verdure's fate. The Druid was badly wounded, the blade had cut him across his upper arms and chest and it was evident that some disease had been inflicted. Instead of staying behind with the Priests, who could have cured Verdure, the Druids paniced and took him to Moonglade in fear that if he died his spirit would be trapped in Icecrown.
In Moonglade Verdure was losing his grip on life and was fading fast. He had lost the will to live and fought against his healer's efforts to restore him so that he could fade away. He wrote letters to dear friends and ordered them be posted, before passing away upon his bed in Nighthaven. Great wails of anguish filled the air of Moonglade as one of their greatest Druids passed away.
His body was taken to the Barrow Dens and placed there to rest eternally. His location in the Dens was kept a secret and known only to those close to him for fear of necromancy was still rife at the time. The Druid was attuned so greatly to nature that his spirit passed into the Emerald Dream. He was ninety-eight years old.
Verdure's death was later understood to be indirect suicide.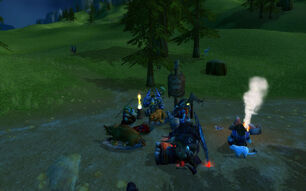 Verdure's Obituary
.
By now Verdure's body will have decomposed significantly under the leaves he was covered with and into the soil. Members of The Thousand Eyes paid their respect to him at his resting place during their pilgrimage to Hyjal.
Known companions
Edit
Blacktongue (Deceased)
Chirrup - a little Tickbird that follows Verdure around and nestles in his mane, he and Verdure will often sing together.
Iwthe the Cloudwing (unused)
Personal Quotes
Edit
"There is only the mountain.. and the winds pass it by. Perhaps one day there will only be the wind? Or perhaps only the mountain?"
"Do not rush the growth of the great Feralas tree!"  Usually said in context of wanting apprentices to not rush their training. Braan Firetotem sometimes now uses this phrase.
"I am Verdauga Whitecloud the 4th.. of Stonetalon. And you are Braan Firetotem, and some darkness veiled me this past hour, which since has been lifted. Is it over? Did you save me?" - In response to Braan asking Verdauga who he was after being saved from the Twilight Cultists.
"I can't keep my eyes open much longer.." - last words
Some believe he was referring to the Thousand Eyes, though it is likely he just couldn't keep his eyes open as he was about to die, drowsy, numbed and eased into death by Druid healing. The tone of his last words suggest he was oblivious to his dying as they were not heroicesque words as are common to those who know and embrace their fate of death.
Usually slept in cat form, or when in Northrend, bear form.
Favourate drink is Cenarion Spirits.
Ex Chief of Taurajo.
Once had a bounty on his head.
Used to speak in third-person before going to Northrend.
A Druid as powerful as he could have survived his injuries from Icecrown but Verdauga had given up on life and allowed himself to pass away. This is why the Druid was not considered to be ressurected at the time of Cenarius' rebirth as it was understood the Druid had wanted his own death following his corruption, though not by his own hand.
OOC Notes
Edit
Verdauga's name comes from the character of
Verdauga Greeneyes
, an aging wildcat warlord from the book "Mossflower" from the Redwall series by Biran Jaques. Verdauga is killed off very early on in the book by his own daughter. Verdauga Greeneyes ruled over the Thousand Eyes army, it gets little mention in the book save for that it was the guard of his fortress, Kotir. There is a rank in the
eyes
called Wildcat.