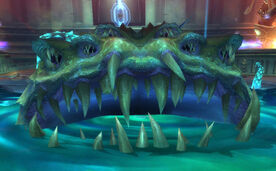 Yogg-Saron is an Old God imprisoned beneath Northrend by the Titans. He is responsible for much of the corruption in Northrend, including that of Verdauga.
Banishment by the Titans
Yogg-Saron, along with the other Old Gods, created the Curse of Flesh to infect and assimilate the Titans' creations, such as the Earthen. The Titans discovered that if the Old Gods were destroyed, any infected creations would also be destroyed.Alternatively, the Titans kept the Old Gods alive and imprisoned them beneath Azeroth.
Grizzly Hills
Yogg-Saron corrupted the world tree Vordrassil when its roots penetrated his lair. Druids destroyed the tree upon discovering its taint, but corruption continued to spread to the Grizzlemaw furbolgs which later inhabited the tree's stump and attempted to regrow the world tree. The furbolgs used the corrupted magic of the tree to resurrect the bear god Ursoc, who in turn also became corrupted.
Saronite
Saronite ore derives its name from Yogg-Saron. Tuskarr refer to it as "black blood of Yogg-Saron," suggesting it may be a physical byproduct of the Old God. It is used by the Scourge as fuel, armament, weapons, and in constructing their buildings. The Scourge utter "Yogg-Saron" with contempt. Faceless ones also refer to Yogg-Saron in an unknown context.
'
Whispers of Yogg-Saron
They are coming for you...
Give in to your fear...
Kill them all... before they kill you...

They have turned against you... now, take your revenge...

Tell yourself again that these are not truly your friends...

There is no escape... not in this life... not in the next...

You are a pawn of forces unseen... It was your fault...

You will be alone in the end...

Trust...is your weakness...

Hope..is an illusion.

All you know...will fade...
See also
Edit
Ad blocker interference detected!
Wikia is a free-to-use site that makes money from advertising. We have a modified experience for viewers using ad blockers

Wikia is not accessible if you've made further modifications. Remove the custom ad blocker rule(s) and the page will load as expected.