This page is Archived.
If you disagree with this Archive, please explain why at the comments below.
Archived Pages are pages that:
Are outdated or unused.
"Belong" to players who are inactive or have left the realm.
Are well-crafted and can serve as an example for others
Contain good content.
Archived pages are not likely to be updated anymore and serve as a backlog of our realm's past.

---
Zarzetha

Zarzetha the Sightless
Vital statistics
Gender
Female
Race
Troll
Faction
Horde/Neurtal
Health
Over 7000
Level
71
Status
Alive
Location
Eversong Woods
Zarzetha is a female troll Witchdoctor friendly with the horde whom was the leader of the now disbanded Serpentfang Tribe. She appears to be completely blind however manages to walk and identify people and objects with ease. Always willing to aid others her talent for Healing magics stretches to alchemical sources as well as spells. She is usually seen lurking a Shady bar or Inn, ready fortunes with aid of her mysterious pack of cards and charms, Or wandering a lush forest or jungle. Known now as Zarzetha the Sightless, She seeks to gather followers and form her own tribe of trolls devoteed to the elusive Raven God,whom she now acts as the Vessle.
Zarzetha the Sightless, The Raven Seer, The Blind Mystic
Physical Traits
Edit
Zarzetha is a fairly average height, not to be too imasculating amoungst her male kin. Her skin has been paled and calused by time , yet has a mossy and a rubbery texture. Zarzetha has thick viny hair that cascades down her back in braids and binds, various trinkets and plant life seem to be tied into her emerald mane, Her style remains still resonably unkept and ravaged by time. Zarzetha is almost always adorned in tribal attire, with leathers and straps hugging her atheltic build. Fizzing bottles and vials are attached to her like jewelery, as well as an assortment of pins, pins dolls, and shrinken heads, strangle resembling Elves. However only now during her time amongst the allies of the Horde she has come to accept her handicap in relfection to the other races, and walks the towns and cities with her face hidden beneath a bird-like cowl, and wearing attire adorned in feathers and other bird like magical trinkets. Zarzetha is also seen holding a mysterious pack cards around her waist in a small gemmed satchel, slightly lardger and more worn than simple playing cards, the cause her satchel to eminate a faint glow and a tuneful wail to a close enough ear.
Race and Class
Edit
Zarzetha is said to have been born a forest troll, howver years of wander and exile have diluted her amani blood and her apperence reflects a more common species, with more hagarded and pale skin. Zarzetha is first and formost by game mechanic a Shamaness of Restoration.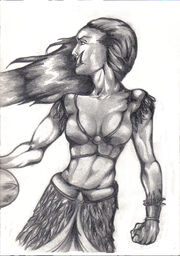 Comming Soon
Occupation
Edit
Expert Witch Doctor and Alchemist, Adept at Fortune Telling and is said to be a talented Acrobat and Swordsman
Parents/Deceased
Zulthala the Wicked Evil Sister/Missing
Known now as Zarzetha the sightless, The Wise Shamaness lost her sight at a tender age, at the hands of her own flesh and blood, her vile sister Zulthala, who would come to be known later as, Zulthala the wicked.
The Troll siblings were said to spend the majority of their youth within the hallowed walls of Zul'Aman, before it feel prey to war and hardship, Since birth, both trolls were forseen to have a talent for mysticism and spellcraft. However Zulthala chose the path of sorcery and dark voodoo, a craft that her forest kin had been renowned. Zarzetha on the other hand took her studies to the finer art of Alchemy and Trollish Witchcraft, studying with some of the finest Witch Doctors the empire could fathom.
Pursuing the path of a spirit guided Seer made Zarzetha destined to becoem a future wise woman of her people to guide her kin in the ways of Mojo and mysticism.
Beings times when the tribes were flourishing, so to was Zarzetha, as another advantage she had when growing up was her unmatched beauty. No amani male was safe from her capturing alure, all to which led to the unfortunate events that befell Zarzetha in the near future, For in the shadows, a seething hatred began to blossom within Zulthala, whom had watched her sister bloom into a sultry creature of wisdom and beauty to which all had wished to mate, while her body grew tired and withered and her face, pimpled and trodden. In light of her new found distain of her sister, Zulthala challenged her sister for a right to be the tribes wise woman. Zarzetha gracfully accepted, However, the two trolls had expected to fight with the knowlege they had gained over the years, when the Chief of the tribe ordered a circle of wards to be placed around the sisters and strip them of their powers. As 2 blades were cast into the fray the sisters had no choice but to meet eachother in a fight to the death with tusk and steel. As to be expected victory was granted to Zarzetha, being a talented acrobat and fighter, her sister was no match. However, out of what seemd as kindess towards her vile twin, Zarzetha spared her sisters life, forcing her into shame as she swore never to challenge Zarzetha's right to rule again. All seemed just as Zarzetha turned to kneel before the chief, until Zulthala, disdraught with shame and disgust, reached for her blade and hurled it towards one of the wards, breaking the ritual circle, As her Shadowy powers begain to seep through her once again, Zulthala channeld all her powers into a single spell, The ground began to blight and her troll womans body began to darken, until her foul Hex flew across the village floor and enthralled its target. Zarzetha was trapped within a swirling vortex of dark spirits which cut and seethed her flesh, upon finally soaring their way deep into her sockets. The Shaman lay almost lifeless on the soil while the tribesman siezed the wicked Caster.
Zulthala while being senticed to death, made a sly escape and was never heard from again. Her broken sibling however rose from the ground grasping her palm to her face, upon lifting her hand from her scarred head, her eyes were left as white as bone, empty and sightless.
The now blinded Zarzetha however was somehow granted - through some fortunate stroke of fate - a rare gift from amidst the peril that had befallen her, while her physical sight had been lost, she retained the ability to see through the mortal perception of reality, and in that Zarzetha was able to see the very spirits that existed beneath the plane of existence, known to be....The Astral Plane. With this new ability, Zarzetha developed the means to commune with the very inhabitants of the plane, and thus could see through what others could not. While the physical world was lost to her. Through the plane, she could see more, The life force of every blade of grass and every living being was visible to her. She trained this ability in order to read the very fate and destiny of others and even predict future accurances granted to her from visions from the spirits of the astral plane itself. Zarzetha, from using this communal of spirits, is able to tap into the Loas and spirits of nature, all to which grant her powers of Life and vitality, including the magics of Flora and Fauna. With her new found powers however, her tribe saw as anything but a blessing, but an atrosity of nature, so, Zarzetha was cast out of her tribe and forced to wander the lands. Over time Zarzetha has sought allies and fought enemies. Mnay years have passed and even now she seeks to return to her homeland, unaware however of the vile fate that has consummed it.
The Serpentfang
Edit
Many years after her exile Zarzetha began to follow the old ways of her people and worship them in her own way, Beign able to commune with the spirits Zarzetha disscovered 2 very powerful Loas, These loas were the spiritual manifestation of 2 mighty Serpents, that represented the duality in all living things, both life and death, and light and dark. They were known as Jik'la and Al'kij. Zarzetha found solus in these gods as, they held within them the power to exact her destiny and build a new tribe in her own image. and in the image of the Twin Serpent Gods. However Zarzetha saw her self after so many years as seemingly unfit for leadership, and So, upon her travels she met with a young jungle Troll Warrior, whom in many cases was ideal and born for leadership, So Zarzetha bestowed in this Beserked Troll, the right of Chief, of her new Tribe and taught him the way of the Twin Serpents. Together they founded What was known as....The Serpentfang Tribe. Both Zarzetha and the Warrior were able to attract many followers and shared with them the power and knowledge of the Twin Serpents. However, treachery was lurking in the jungle and sooner or later the dream would become a nightmare.
Granted powers within the tribe above herself, The Warrior Chieftan, saw fit to bask in the pleasures of Riches and Food,.....and Women. And so her took upon him a slave girl for his own personal pleasure. The girl was a nobody,a small mystic whom Zarzetha had over looked and pressumed she would be discarded in a moments notice, after The chief had has his fill of mating. Zarzetha however was not so lucky. The Chief over time had gotten closer and closer to the young Mystic, until after her ego was too big to fit in her boned helm. He gave his seductress the same righs and privilages as the Blind Seer herself. Disgusted with the actions of her Chief Zarzetha cursed his name and left the Tribe to its own devices, watching from afar as it began to crumble in on its self through deceit and treachery. The Chief and his new seer , were now forgotten chapters in Zarzetha's life, chapters she is glad to have lost.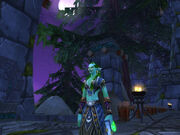 The Raven Goddess
Edit
After the fall her her cherished Tribe Zarzetha felt more alone than ever, without herself to guide them, her tribemen lost their faith in the Twin Serpents and the gods to this day have evapourated from history. Without direction of guidence Zarzetha chose to leave the world itself behind, So she lay in medetation, for months she let her spirit wander the stral plane, From amoungst the fog of her mind came a vision, Zarzetha was greeted by yet another being of great power, Zarzetha could only make out its spiritual form, 2 great wings flew over head, gistening with violet and ebony. and 2 glowing emerald eyes, gazed at the Seeress as it swooped back and forth arround Zarzetha's floating aparariton, until it let out an ear piecing howl. Pianed by the noise, Zarzetha awoke suddenly, finding herself amidst a secluded forest. She looked around and then turned her glance upward at the sheltering branches, only to see the same creature circling overheard, this time, its form was true and the feathers upon its back were as real as the large talons in its grip. The Bird was now noticable enough to tell its origin, Zarzetha let out a few small sniffs and disscovered it to be an abnormally large Raven. The avian god gracfully decended down to where Zarzetha was sitting and glided itself to a firm stop. As it stoop perched in the grass infront of Zarzetha, it slowly began to walk upon its sharp claws towards her. With each footstep the bird made, vines and flowers grew from the soil as if the god left nothing but mojo in its wake. The bird lifted its beak infront of Zarzetha's face and introduced itself. In songful melody and echoing voice, it said..... I......ammm.....Sheik'eth....Goddess of the Raven.
Personal Notes
Edit
Zarzetha is on 2 fictional characters of a similar theme, one being.......Theresa, the Blind Mystic from the Fable Mythology. Inspiration is taken from her as to Zarzetha's Blindess and the role she can play within the Horde.
Zarzethas Main influence however is that of Tia Dalma, from Pirates of the Caribean Trilogy. Her voice and mannerisms are all to the tee, and her style of dress,appearanceand habitat are what has inspired Zarzetha's origins and themes.
Ad blocker interference detected!
Wikia is a free-to-use site that makes money from advertising. We have a modified experience for viewers using ad blockers

Wikia is not accessible if you've made further modifications. Remove the custom ad blocker rule(s) and the page will load as expected.